MARLIN STAR Community Access to Stored and Transferrable Energy from Floating Renewables
The £1.4million MARLIN STAR project, funded by the Energy Catalyst programme, will progress the development and commercialisation of an innovative modular, floating renewable energy platform that will enable coastal community access to stored and transferable clean energy.
It supports several of the UN Global Goals for Sustainable Development and particularly #7 'Affordable and Clean Energy'.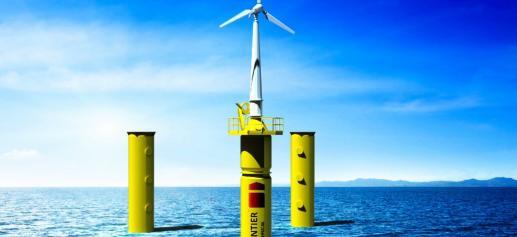 Project Lead: Frontier Technical Ltd
Offshore Renewable Energy Catapult
Tension Technology International Limited, Eastbourne
The City of Sunderland Council
The energy and resources institute
Plymouth Marine Laboratory, United Kingdom
The innovative technology has huge export potential to countries where remote off-grid coastal communities can benefit directly from local offshore renewable energy generation.
The platform will be capable of hosting a wind turbine with capacity up to 2MW, as well as onboard energy storage and transfer capabilities. Its controllable float modules fit into standard ISO shipping containers and assembly completed underwater without the need for large port infrastructure or heavy floating crane vessels.
The MARLIN STAR project assesses the market and social conditions for implementation of floating offshore wind energy generation, storage and transfer in Bangladesh and India.
Durham Energy Institute will undertake research in the island communities of Bangladesh and India. Using a socio-technical approach to inform the design, to optimise the longevity of future installations, and to enable local operation and maintenance by the communities independently.
The Offshore Renewable Energy (ORE) Catapult, will undertake market analysis and the mechanical testing, assembly and initial demonstration of the floating platform.
Francis Brown Ltd engineering services firm will progress offshore fabrication.
Tension Technology International will be working on an innovative synthetic mooring and anchoring system.
Plymouth Marine Laboratory will deploy and test the platform offshore.
India-based The Energy and Resources Institute, will undertake social science research in coastal communities in Gujarat state in India.
The Floating Platform
The project will revolutionise traditional construction techniques for building large floating platforms.
The MARLIN underwater construction system employs patent protected buoyancy and orientation control. It enables structures consisting of uniform sized hexagonal interlocking modules to be constructed at the point of use. Float Modules fit into standard ISO shipping containers for easy transport to any location. Mass manufacture techniques and assembly without the need for large port infrastructure or large floating cranes will reduce costs. Realistic energy access will bring significant improvements to quality of life in the most deprived areas.
A prototype floating energy platform with a functioning wind turbine, energy storage, and innovative synthetic mooring and anchoring system will be built. Operational testing will be carried out initially in protected docks and then in the open sea.
Stephen Robertson, Offshore Renewable Energy Catapult's Head of Business Development, said:
"The MARLIN STAR project is a great example of UK ingenuity and collaboration, with huge potential as a floating wind solution for powering off-grid coastal communities. We are extremely pleased to be part of a consortium responding to the call of an international innovation challenge, especially as it reinforces the UK's strengths in offshore renewable energy"
Our Marlin Star project has been used as an InnovateUK Success story for G7 series: