Join us for Community Fun Day 2022
14 October 2022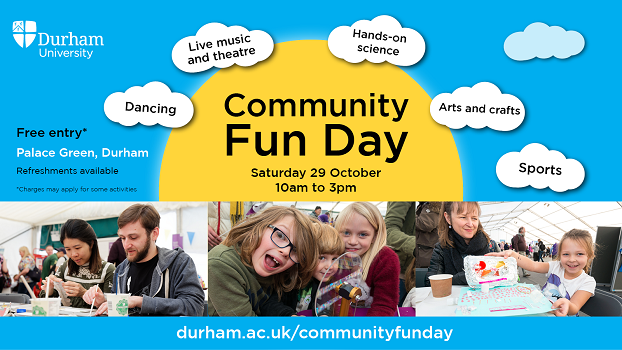 We are so excited to be hosting our Community Fun Day once again, and we are inviting you to join us! Come along to enjoy an exciting range of activities from across the County to celebrate the best of Durham community projects. The event will be taking place on a marquee on Palace Green from 10am until 3pm on Saturday October 29.
Community Fun Day is organised to be an exciting, hands-on and fun-filled event which will have something of interest to all ages.
We are hosting a wide variety of organisations including the Auckland Project at Bishop Auckland and Hardwick Park. Count Durham and Darlington Fire and Rescue Service will also be in attendance with one of their fire trucks! We are also putting on some performances during the day, including a snippet from one of Ooook! Productions shows, as well as a performance from Durham University Light Opera Group.
Within the marquee, there will be a 'Creative Village', from Creative Fuse North East. A space where professional artists will be displaying their talent and giving visitors the opportunity to learn some of their skills. These range from watercolour painting to creative writing.
Team Durham groups will also be providing the opportunity to try out some sport. Test your skills at tennis factory, indoor archery, and or the session from our Junior Hockey Programme.
If all the above isn't enough, Durham University's visitor attractions, the Botanic Garden, Oriental Museum and Palace Green Library will also be joining us, and visitors will be invited to visit the Assembly Rooms Theatre as part of a Sherlock Holmes themed Treasure Trail.
Entry to the event is free and a small charge may apply for some activities.
We can't wait to see you there!
Find out more
Visit the Community Fun Day webpage
Contact community.funday@durham.ac.uk if you have a specific question about the event
Learn more about our Visitor Attractions
Visit the Assembly Rooms website