Step into spring celebrating Holi Festival at the Oriental Museum
14 February 2023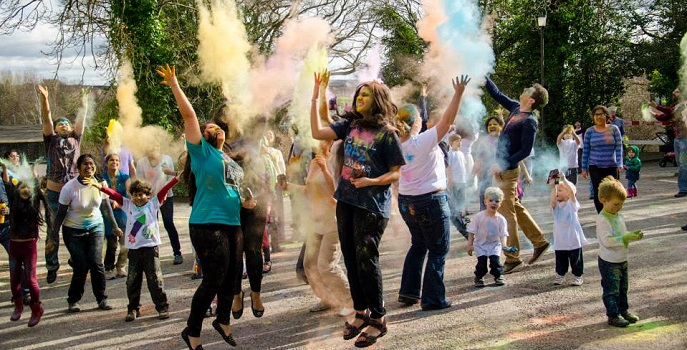 Join students and community volunteers when they spring into action to help celebrate the spectacular Indian festival of Holi at the Oriental Museum on Saturday 11 March, 12 noon – 5pm.
Known as the Festival of Colours, Holi traditionally involves throwing brightly coloured powders over friends and relatives representing the victory of good over evil, the end of winter and the arrival of spring.
Colourful fun for the whole family
The Oriental Museum has a full day of activities planned, with a series of timed powder throws to enjoy. Ticketholders will receive one free bag of environmentally friendly, skin-kind coloured powder and will be able dance to a mix of Bhangra hits and upbeat pop, while getting covered from head to toe in brightly coloured powders. Additional powder will be available to purchase on the day.
There will also be arts and craft activities, storytelling and visitors will have the opportunity to help produce some traditional Rangoli designs. There will also be plenty to tempt the taste buds, with delicious Indian food on sale too.
The event is another opportunity for staff, students and local families to come together and share in the cultural and social life of the city.
Get messy
Charlotte Spink, Learning Coordinator based at the Oriental Museum said: "We all look forward to Holi Festival as it really means spring has arrived at last. This year we have a super team of student and community volunteers helping us delivery the event."
Rashmi, one of our student volunteers explained why she is involved; "This is my first Holi Festival in Durham and I am really looking forward to telling people what it's all about. It's traditional at Holi to wear white, or light-coloured clothes for maximum colourful effect when the powder is thrown and visitors should be prepared to get messy!"
Tickets cost £3 per person (children under 2 are free) which includes entry to a timed powder throw and entry to the Oriental Museum. Tickets can be booked online at Eventbrite
Free parking is available for this event at Elvet Hill Car Park. There is also paid on-street parking near the museum and the Howlands Park and Ride is a 15-minute walk away.
Durham Global Week
This year Holi Festival is also being highlighted as part of Durham Global Week, running 4 - 11 March. This is a celebration of the multicultural diversity that defines Durham as a leading global university, with staff and students from over 150 countries.
Find out more: