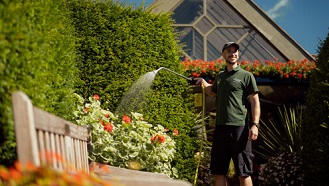 Durham University's Botanic Garden has been awarded a Gold Medal in the 'Tourist, Visitor Attraction and Country Estate' category at this year's Northumbria In Bloom Awards.
These highly coveted awards recognise Horticultural excellence throughout the region and this is another accolade for the Garden which has consistently won Gold Awards on numerous occasions over the years. High profile recognition from 'Northumbria in Bloom' helps to promote the Garden across the region and nationally, to attract more visitors and showcase the work of the dedicated gardening team.
Judges comments
The judges described the Botanic Garden as 'A treasure trove of plants from all regions' and particularly impressed by the work the gardeners who they credited with leading the way in the use of chemicals across all areas. do to reduce the use of chemicals. They also credited the work of the 'Friends of the Garden', the volunteers who give their time to help with a wide variety of projects and events.

Popular attraction

Set amongst beautiful mature woodlands just outside Durham city, the Botanic Garden is open all year round. It is a leading attraction in Durham, featuring the alpine garden, winter garden, bamboo grove, glasshouses and recently developed woodland garden and wild flower meadow. The Visitor Centre is open daily with a Café and gift shop making it the perfect place for visitors to enjoy the changing seasons throughout the year.
It also provides an academic resource to the university for teaching and research, as well as offering educational visits to schools.
Since the lifting of Covid restrictions, the Botanic Garden has re-launched its popular programme of events and activities for visitors of all ages to enjoy.
Celebrating our staff
Head Gardener, Peter Thomson, is delighted with the award "It is a big boost to staff when we receive awards like this and acknowledgement for all the hard work they put in throughout the year, as well as being great for team moral! Winning this award makes us more determined to achieve even higher accolades in the future."
A golden year ahead
The Botanic Garden first opened in 1970, but 50th anniversary celebrations in 2020 had be postponed Due to the pandemic. The Garden is now looking forward to planning slightly belated celebrations throughout next year.
Find out more: