Facilities
Explore our facilities below:
Visitor Services Desk
You will receive a warm welcome from our visitor services team who will help you to make the most of your visit. At our Visitor Services Desk, you can:
Be introduced to the Oriental Museum and its collections

Purchase tickets

Find out about events and activities taking place

Purchase items from the café and shop
Gift shop
The Museum shop is open to everyone, you do not need to visit the Museum to shop with us. The shop sells a range of oriental-inspired gifts and souvenirs. There is something for everyone; from pocket money toys to exclusive items that are perfect for that special gift.
Our shop is divided into five themes - China, Japan, Korea, India and Ancient Egypt, with products coming from the country of origin wherever possible. Many of our products are Fairtrade or made from recycled materials. We also sell postcards, cards, books and gift-wrap.
You can also purchase Durham University merchandise at the Durham University online shop.
Café
We sell a range of delicious coffees, speciality teas, cold drinks and a variety of savoury and sweet treats. Child-friendly and healthy drinks and snacks are on sale, and we can provide a highchair if required. There are books and activity sheets available to use within the café area.
Seating is flexible to accommodate wheelchairs and pushchairs.
As part of Durham University, we are Fairtrade certified. We are committed to providing Fairtrade food and drink wherever possible. We aim to source our items locally to reduce the environmental impact and wherever possible, our packaging is biodegradable or recyclable.
We offer free tap water as requested.
Toilets
Toilets are located on the ground floor by the reception area. There is a unisex accessible toilet which also contains baby changing facilities and toilet aids for our younger visitors.
You are welcome to breastfeed or bottle-feed anywhere in the museum.
Lockers
Visitors may leave their belongings in a locker for the duration of their visit. Lockers are free of charge.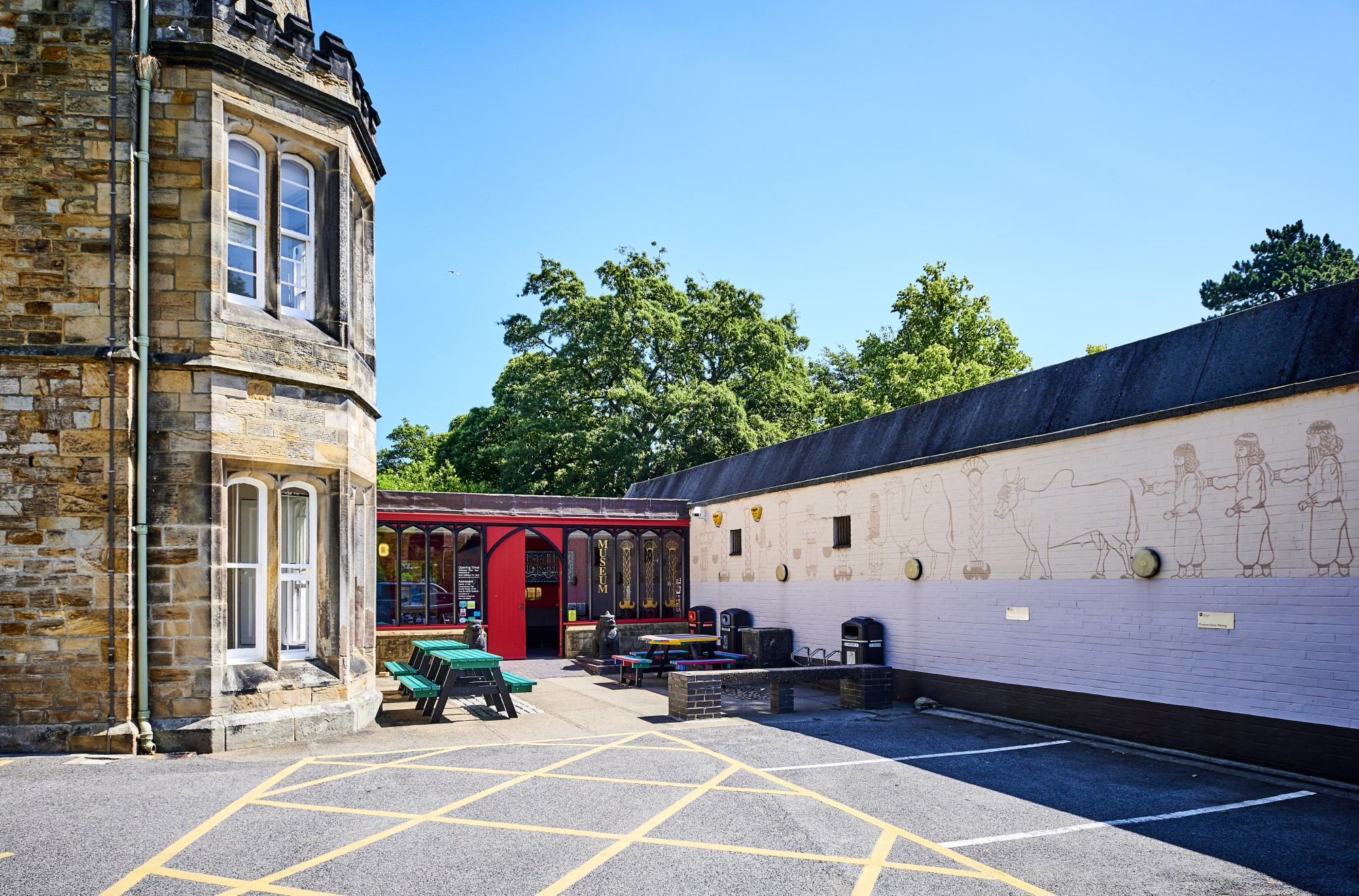 The entrance to the museum.