Influencing change: the complexity of social media activism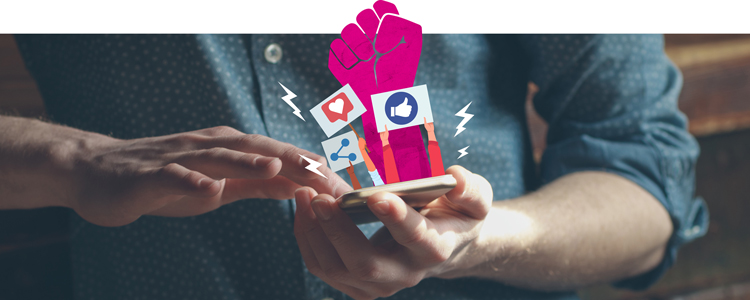 Social media is a powerful tool for inciting positive change - but it can also lead to disingenuous or even harmful outcomes. Dr Mariann Hardey reflects on its role in social activism.
I am feeling disoriented. At the time of writing, it is the end of summer, and the popular press has proclaimed it also to be the 'end of the pandemic'. On the other hand, social activism continues to energise social media, with engagement around vaccination, climate change, war, humanitarian aid, natural disasters and an endless succession of cause and concern and scare and responsibility.
Recent causes have made excellent use of social media. #OperationArk provided a real-time view into the urgent support and political leverage required to evacuate Paul (Pen) Farthing, a former Royal Marine, his staff and hundreds of animals from Afghanistan. The same social media activism reported on Pen and the animal airlift, but without his staff.
It is hard not to be transfixed when real-time events unfold through global reporting. I view such observations as a study of social media's own little ecosystem, with clear-cut rules and elements of chance thrown in. A president who would not behave. A young woman advocating for immediate action for climate change mitigation. A call for help from a war zone. These events and the swell of comments and feedback loops are complex systems. They evoke emergent behaviour and reactions.
In the midst of all this noise, I find myself wondering whether social media helps or hurts social activism.
The goals of social activism are similar to social media in terms of advocacy, action and sharing. Each is designed to keep our attention (and time) on that platform when we engage with social media. One of the most compelling developments in humanitarian efforts has been the use of social media to promote social issues that would have otherwise gone unnoticed or received little attention. The benefit of using social media is that messages can 'go viral', gaining support for causes.
One of my favourite examples of the 'going viral' element is the increased attention around #DressLikeAWoman in 2017, which was in response to Donald Trump allegedly telling his female staff to "dress like women". The overarching goal was to draw attention to gender discrimination and challenge gendered expectations around dress codes, which the hashtag accomplished admirably.
Whether we think hashtags are helpful or just a fad, the 'Greta Effect', as described in recent Ofcom research, shows that the next generation will continue to use social media to connect with causes. For this generation's parents, social media poses more risks than benefits to children. More than two-fifths of the 3,500 adults polled expressed concern about their children viewing content that encouraged self-harm.
Concerns like this remind me of the viral Italian video #SlapHer from Fanpage. It was published in 2015 and was about domestic violence. Boys aged 7 to 11 were asked to slap Martina, a girl. The campaign, which has received over 45 million views, is based on the shock effect, which can be instantly magnified through social media. Critics contend that #SlapHer fosters gender stereotypes by portraying women as submissive and men as aggressive; one boy claims that he "can't beat her because she is pretty". Martina is objectified and has no self-autonomy in the sequence in which boys are urged to touch and caress her hair without her permission. Such a viral sequence triggers more discussions about complex subjects and raises further issues of concern for parents.
Younger generations use social media to educate themselves and effect positive change (clean up older generations' catastrophic mess). Jack Harries is a renowned activist filmmaker with 3.75 million YouTube subscribers. People like Harries are referred to as 'Green Influencers' because they create stories, education and activism about climate change to prevent future disasters.
At the high level of environmental activists, we have our Greta Thunberg, Alexandria Ocasio-Cortez (US congresswoman, known as on social media as 'AOC'), David Attenborough and many more. The method of storytelling such activists enact on social media is an effective engagement tool through which they are seen to hold key roles in enabling policy change. Social media is not the orchestra of change here; it is an effective tool to help generate content and find and share information about a specific cause. Such a tool is more effective with a well-known creator as a figurehead.
Being an activist isn't about numbers. Beth Kanter (@Kanter on Instagram) is an outstanding influencer known for enhancing the profile of charities and non-profits. Kanter is a micro-influencer with 5k followers, but her posts receive much attention. Micro-influencers create high-quality social media content about a specific topic or have a specific skill level. As a result, they have an engaged and targeted following.
Yet, as the world comes to terms with the state of the planet and humanity, some 'activists' are being called out for making environmental concerns about themselves. These influencers travel to areas of climate devastation to take selfies or stage photoshoots at protests. Social media platforms encourage certain forms of progressive or educational content to enhance their engagement rates. I am sure you can recall similar content that tends to feature whimsical quotes with colourful, often garish, typeface and illustration. With this kind of content there isn't much of a relationship between genuine engagement and promotion of the cause, simply a slew of corporate-like social media spew designed to generate Likes.
Such ready-made content is a cause for concern and potentially problematic considering how integral activist content is to social media and whether it is being used to promote a new vision of the world, reform ideology, or be commercially appealing. There are clear examples of brands latching onto popular social movements to create a social justice message to emphasise that they 'care'. One of the most memorable of all, perhaps, is Pepsi's attempt at a woke ad featuring Kardashian supermodel Kendall Jenner. The ad was universally mocked as a corporation attempting to profit from the climate of political protest, specifically that concerning the Black Lives Matter movement. It has become a popular example of a failed activist marketing campaign.
It is getting easier to recognise a dishonest influencer campaign, thanks to using content aggregation tools like Influencers in the Wild. Posts uploaded to Influencers in the Wild - Twitter and Instagram accounts that track influencer activity - call out disingenuous accounts or simply outrageous (sometimes reckless) behaviour in the name of a cause. The risk of backlash, including death threats, reveals the complicated optics for influencers (no matter how genuine) of being seen to capitalise on a social media movement.
Social media will not save us, but it may connect us to the next cause that will. Whether this will be for commercial profit or to save the planet is up to us.
More about Dr Hardey, who is also part of the Directorate for the Advanced Research Computing group at the University and Durham University Principle Investigator for Creative Fuse North East.