Welcome to your Durham Alumni Community
A global community of graduates and friends.

Stay connected
Now that you have completed your studies you are part of a global and lifelong network of over 200,000 Durham graduates.
You can enjoy a wide range of continued support and benefits, and we'll help you to stay connected to what's happening in your local community or at Durham, wherever you are in the world. Simply keep your details updated and we can support you, wherever your next adventure may take you.
Connect now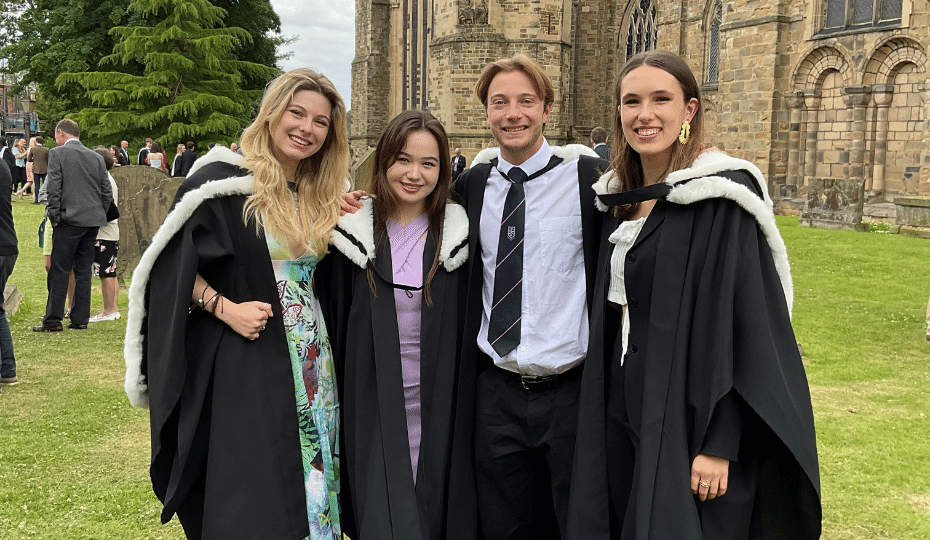 Discover more
Take a look at what we can offer. Your community will always be there to support and we'd love you to help us support others just like you.
Register and Login
Community focus
Check out the latest from your alumni community.
Dunelm Days
Hosted by alumni, for alumni - bringing the community together in November.
Vice-Chancellor's tour of Asia
Professor Karen O'Brien hosted receptions with alumni communities in Singapore, Tokyo and virtually in Kuala Lumpur.
Dunelm magazine
Our annual alumni magazine is packed full of your stories and a round up University news to keep up to date!
World Top 100
ranked 92nd in the QS World University Rankings (2023)
Sports University of the Year
The Times and Sunday Times Good University Guide 2023
12 Subjects
in the World Top 50 (QS World University Rankings by Subject 2023)
Over 330
undergraduate and postgraduate courses
What's new?
We're celebrating the news that Professor Deborah Riby from our Department of Psychology, and Associate Professor Nadia Siddiqui from our School of Education, have both been elected to Fellowship of the Academy of Social Sciences, in recognition of excellence in their respective fields, and their wider contributions to the social sciences for public benefit.

We're pleased to announce Professor Mike Shipman as our new Deputy Vice-Chancellor and Provost.

Our Vice-Chancellor, Professor Karen O'Brien, reflects on the first anniversary of the Russian invasion of Ukraine, as well as sharing some upcoming opportunities in and around Durham.
University Centre of Cricketing Excellence captain Emily Batey and club captain Libby Haward tell us about their path to success, which has not been without challenges.

In an inspiring programme, DUPO will perform Dvořák's New World Symphony as a celebration of their 15th anniversary.

Durham University Brass Band (dubb) is launching its annual Composition Competition, offering student musicians and recent graduates from all over the UK the chance to have their work published.
The Hub and Social Media
Hear from our alumni and everything social.