Khyal: Music and Imagination
19 January 2018 - 3 June 2018
Led by Durham University's Music Department, this multimedia exhibition brings together visual artists and musicians to explore diverse visual responses to Indian classical music.
Khyal is the name of a vocal musical genre from India. The name means "imagination". This imagination can be heard in the intricate beauty of the musical patterns the singers create. It can also be explored in the vivid imagery on which musicians draw; images of landscapes, people and Gods, stories and situations, abstract designs and splashes of colour. All these things feed into the music we hear.
Three visual artists immersed themselves in this music, collaborating with musicians who perform it and musicologists who research it. This exhibition presents the artistic result of this collaboration and allows visitors to view the works while listening to the music that inspired them. Alongside the work of professional artists are displayed artworks by school children and art lovers. These were produced in workshops led by the artists, musicians and musicologists.
Explore this interactive app, allowing you to investigate khyal performance in more depth.
Original works by:
Adinda van't Klooster

Mahjabin Imam Majumdar

Theresa Poulton

The pupils of Kingsmeadow School and Kelvin Grove Primary School, Gateshead

Art lovers from Pune, India.
Featured singers:
Veena Sahasrabuddhe

Ranjani Ramachandran

Sudokshina Chatterjee

Surashree Ulhas Joshi

Atul Khandekar.
The project Khyal: Music and Imagination is led by Martin Clayton and Laura Leante at Durham University, in collaboration with GemArts, and funded by the Arts and Humanities Research Council.
Learn more about this project.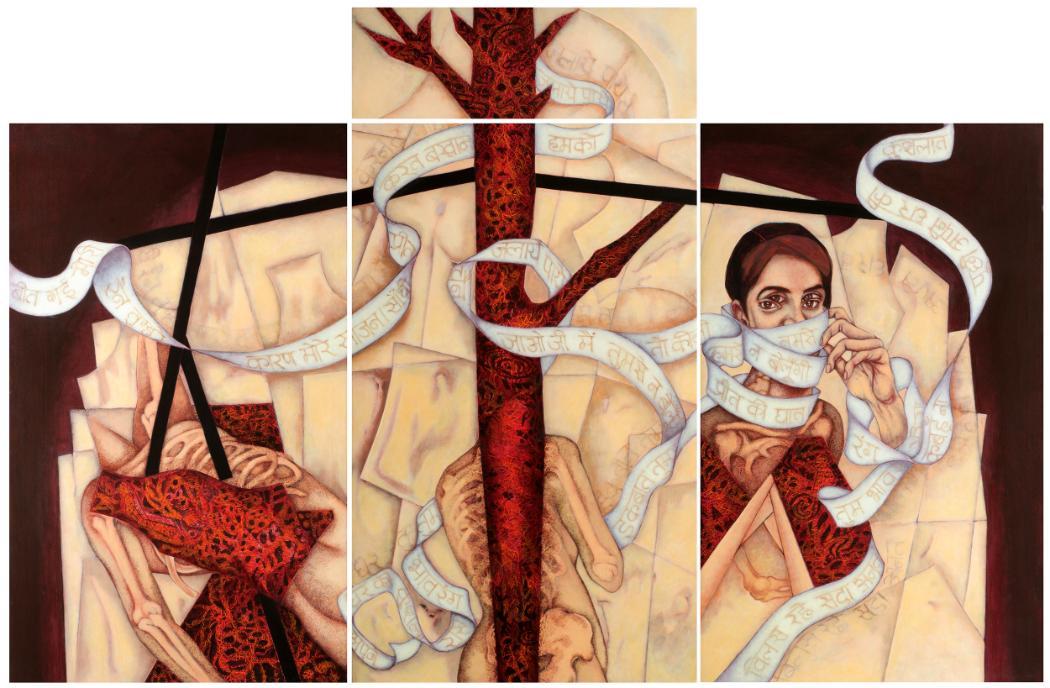 Image caption: Marwa, © Mahjabin Imam Majumdar, 2016, acrylic on canvas (detail). Inspired by a performance of Rag Marwa by Ranjani Ramachandran.