Photographing Tutankhamun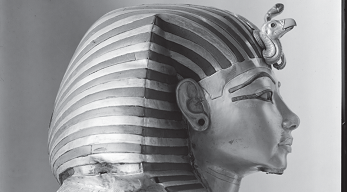 9 December 2022 to 15 August 2023
This exhibition explores how photography turned Tutankhamun into a global sensation. It shows the most famous photographic images in archaeology, from the most famous of archaeological finds: the tomb of Tutankhamun. Marking the 100th anniversary of the tomb's discovery in November 1922, this exhibition created by Durham University academic, Prof Christina Riggs, examines the striking images created by photographer Harry Burton during the decade-long excavation.
Photography was essential to archaeology, but Burton's photography did much more than simply record information about the tomb and its treasures. By looking at the different kinds of photographs Burton made, and how they were used, this exhibition places the Tutankhamun discovery in its historical context and asks whether photographs influence the way we think about both ancient and modern Egypt.
The Griffith Institute, University of Oxford, created more than two dozen new digital scans especially for the exhibition, from Harry Burton's original glass-plate negatives.
The exhibition was made possible through funding from The British Academy and in partnership with the Griffith Institute, University of Oxford.