Resilience within the Rubble
29 September 2017 - 28 January 2018
Reconstructing the Kasthamandap and its past after the 2015 Nepal Earthquake.
The 2015 earthquake that struck Nepal not only caused human devastation but was also a cultural catastrophe. It damaged and destroyed much of Nepal's unique cultural heritage, including monuments within the UNESCO Kathmandu Valley World Heritage Site.
In 2015, a Durham University-led team, in partnership with UNESCO and the Government of Nepal's Department of Archaeology, undertook a season of post-disaster archaeological assessment of earthquake-damaged monuments within the UNESCO World Heritage Site, including the nationally important and symbolic Kasthamandap. They returned to complete their work on the site in November and December 2016 with the support of the National Geographic Society and a grant from the Arts and Humanities Research Council's Global Challenges Research Fund.
This photographic exhibition tells the story of the Kasthamandap, from its origins to its collapse to its renewal. Illustrated through archive photographic collections and the personal testimonies and photographs of first responders and Nepali heritage professionals, it is interwoven with photographs of recent discoveries made during excavation by the Durham-led team.
The exhibition shown at the Oriental Museum in 2018 was subsequently adapted for display at the Gorkha Earthquake Museum in Kathmandu.
In 2022, an online version of the exhibition was created in English and Nepali.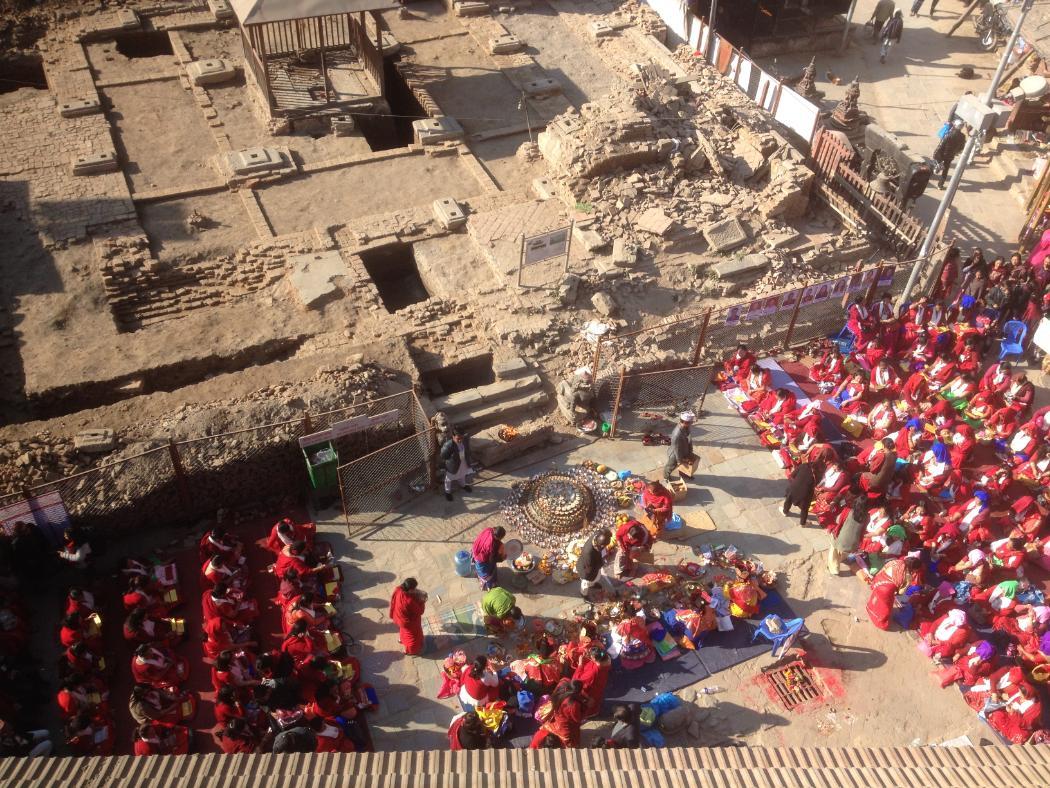 Image caption: Saptabidhanottar, puja and prayer ceremony held to reanimate the site once post-earthquake work had been completed in December 2016.