Overview
Mr Andreas Georgiou
Teaching Fellow in EU Law
---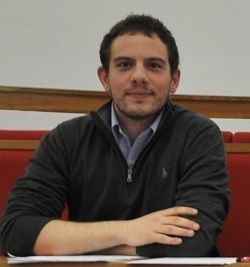 Biography
Andreas is a graduate of Durham University (LLB, PhD) and was awarded a Masters in International Financial Law with Distinction from King's College London. Andreas completed a PhD titled 'The "Output" Legitimacy of Financial Stability in EU Law: Beyond Economic Functionalism' in July 2022 with no corrections.
Andreas' research is situated at the crossroads of constitutional theory and financial law. Andreas is principally interested in the way that financial law serves the goals of social development and social equality, as well as the political legitimacy of regulatory reforms in the EU.
Andreas is a Fellow of HEA and has worked as Part-Time Tutor and subsequently Teaching Fellow at Durham Law School since 2016. Andreas has taught on the modules of European Law, Financial Law, Company Law, and Introduction to English Law and Legal Method.
Prior to commencing the PhD, Andreas completed part of the Cypriot Bar Course and was involved in insolvency proceedings for a major company, and the incorporation application for an investment bank. Andreas has also interned with the Cypriot Ministry of Foreign Affairs, working as a researcher for the European Union Division.
Outside of work, Andreas is a plant collector and connoisseur and an aspiring (but largely unsuccessful) baker.
Current Research
Andreas' work centres on the effectiveness and legitimacy of EU financial stability rules, ranging from financial supervision to institutional innovations in the euro area. Specifically, Andreas investigates the ideological underpinnings and social utility of financial stabiltiy as a concept and political objective, as well as the boundaries of "output" legitimacy in policy areas lacking traditional democratic "inputs".
Broader areas of supervision include European constitutional law, free movement of capital, services, and undertakings, micro- and macro-prudential regulation and supervision, banking law, and corporate governance.
Andreas is also keenly interested in pedagogical research, especially feedback and assessment practices.
Publications
Blog Posts
Georgiou, Andreas (2016), Anti-Social? A Comment on C-179/14 Commission v Hungary, DELI Blog.
Presentation
Georgiou, Andreas (2017), Same Kind of Different? The Stability of the Euro Area and the Precautionary Principle, 'The State of the Union: Reform, Governance and Judicial Protection', Durham-KCL Joint Doctoral Workshop in EU Law, Durham University.
Georgiou, Andreas (2016), Just Go With It? The Irrefutability of Financial Stability as a Supervisory Objective, 'More or Less Europe?', 5th Conference on EU Law and Policy, University of Birmingham.
Georgiou, Andreas (2016), The Wolf in a Shepherd's Clothing? EU Financial Supervision, Market Integration and the Objective of Financial Stability. 'Crisis and Innovation in the EU: Beyond Populism and Managerialism', PhD Colloquium, University of Warwick.
Georgiou, Andreas (2016), As Good As it Gets? The Impact of Financial Stability Policy Agenda on the Functioning of the Internal Market, 'United or Divided We Stand: Perspectives on the EU's Challenges', UACES Student Forum Research Conference, Brussels School of International Studies.
Research Groups
Durham European Law Institute (DELI)
Institute of Commercial and Corporate Law (ICCL)