Overview
Miss Antonia Miejluk
Snapshot Photography in the Interwar Soviet Union
---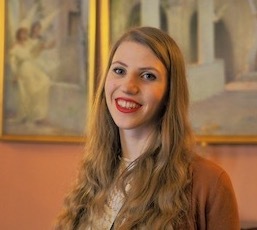 Biography
About
My research examines snapshot photographs as a means of exploring processes of self-representation in the interwar Soviet Union. I approach the camera as an instrument of self-fashioning and story-telling, conceptualising snapshot photography as a representational mode embedded with meanings relating to how people define and enact the self.
Working in conjunction with the Centre for Visual Arts and Culture, my research adopts an interdisciplinary methodology, informed by a theoretical literature on snapshot photography and visual analysis. Drawing upon visual culture methodologies, the thesis will frame the photographic sources within their wider cultural networks, examining state journals, pamphlets, canvas art, film and political art, in order to ultimately examine the reception of shifting Soviet conceptions of ideal personhood. The study of snapshot photographs offers a channel through which to explore the diverse ways that Soviet people sought to represent themselves and their role in society, teasing out the various multifaceted and nuanced ways that individuals understood the notion of a 'good' Soviet citizen.
I hold an MA in Modern History from Durham University and a BA in History from the University of Oxford.
Conference Papers
'Soviet snapshooters: Amateur photography and leisure in interwar Soviet Russia', ASEEES (Association for Slavic, East European and Eurasian Studies) Virtual Annual Convention, 5-8 and 14-15 November 2020
'Ideology, identity, and the snapshot camera: Representing the self in the interwar Soviet Union', Durham-Münster Workshop, 1-2 November 2019, WWU Münster
'Identities in focus: Snapshot photography in the interwar Soviet Union', Annual Conference of the Canadian Association of Slavists, 1-3 June 2019, University of British Columbia, Vancouver
'Happy families? Approaching the interwar Soviet Union through a lens of family photography', Visual Intersections 3, 11-13 July 2018, Durham University
'Exposed identities: Exploring female self-representation in the interwar Soviet family snapshot album', Women, Art, Visibility: The Workshop, 12 June 2018, Durham University
Research interests
The Soviet Union
Visual Culture
Modern Cultural History
Photography
Esteem Indicators
2000: Durham Leverhulme Doctoral Scholarship in Visual Culture: