Overview
Professor David Waugh
Professor
---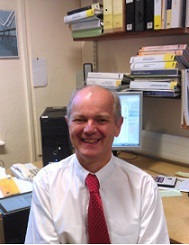 Biography
David joined Durham University School of Education in September 2010 as Director of Primary Programmes and Course Leader for Primary English. David has extensive teaching experience in schools and universities. Having taught in four schools in East Yorkshire for fourteen years, latterly as a deputy headteacher, he took up a post as lecturer in English for ITT at University of Hull in 1990. He went on to lead the PGCE course, which achieved successive "outstanding" grades from Ofsted in 2004 and 2007, and became Head of Department of the Centre for Educational Studies in 2005. In 2008, he became one of two advisors for primary ITT for the National Strategies, working with universities and school-based training providers throughout England. His role included professional development for tutors and teachers; working with trainee teachers; organising and presenting at conferences; producing e-learning resources; leading projects on literacy, inclusion, and mathematics; and liaising with other agencies, including TDA, UCET and DCSF. In 2013, David was awarded a faculty prize for his outreach work in Primary English, which includes delivering lectures to students in schools, followed by students working one-to-one with pupils putting theory into practice. David has published extensively on primary English and on management of educational change, the subject for his doctoral thesis.
His publications include sixteen books for Scholastic designed to support teachers and trainees in planning for teaching. English 3-11 (2008, Routledge), written with Jolliffe, W, was a core text for many ITT providers. Its successor, English 5-11, published in October 2012 and 2017 are also core text in ITT. Teaching Systematic Synthetic Phonics in Primary Schools (Jolliffe, W and Waugh, D with Carss, A) was published in June 2012 and 2016 and has also become a core text for ITT programmes, as have Teaching Grammar, Punctuation and Spelling in Primary Schools (2013 and 2016) and Primary English for Trainee Teachers 2014 and 2017).
He has also co-written e-learning resources, including Developing Literacy in ITT, Secondary Developing Literacy in ITT, Progressing Learning in Literacy, Developing Mathematics in ITT, and Mentoring and Coaching.
He has also written an app. Spelling Punctuation and Grammar for Children Count, together with English, E, Bulman, E, Allott, K and Waugh, R. (2014). This is designed to provide ready access to subject knowledge on spelling, grammar and punctuation for teachers via mobile phones and tablet computers.
David also wrote, with Jonathan Pye, a former postgraduate student, resources for the Teach It website on teaching spelling (published 2014).
A key feature of several of the books is the case studies of classroom practice provided by local teachers and Durham students, some of whom have been acknowledged in the text. The use of evidence from students helps inform scholarship (PV3) and engages students with writing and with relevant texts.
David is often asked to contribute articles to news websites (e.g. BBC) and newspapers (e.g. The Guardian)
David also enjoys writing stories for children. He is a published children's author of three novels: Lottie's Run; "Girls Can't Play Football!"; and Jessica's Other World, all of which are used in schools. He regularly works in schools in England and abroad, using novels as a focus for language work with children. This led to him being asked by 15 East Durham schools to write a novel with 45 children. The Wishroom was published in June 2017.
David would welcome supervision enquiries from students with an interest in Primary English, with a particular focus on children's literature, phonics and early reading, spelling, children's writing and grammar.
Research interests
Primary English
The Teaching of Reading and Writing
Esteem Indicators
2017: Keynote Speaker: APTE Partnership in ITE Conference in Liverpool
2017: Keynote Speaker: NUT Conference on Literacy
2017: Speaker: OECD Creativity Conference in Durham
2017: Keynote Speaker: TEAN "Let's Talk About Grammar" Conference at University of Cumbria
2014: Keynote Speaker:

Phonics Conference

at University of Cumbria
2014: Key Session: 'Meeting the New Emphasis on Grammar and Spelling': Capita's Meeting the New Standards for English Conference in London, Newcastle and Manchester
2013: Keynote Speaker:

Phonics Conference at University of Cumbria

2013: Keynote Speaker:

Regional Literacy Tutors Conference in York
Supervision students
Mrs Terim Erdemlier
Research Student