Overview
Miss Jennifer Arthur
Research Postgraduate (PhD)
---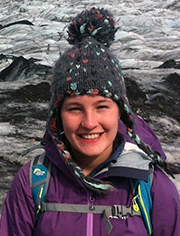 Biography
PhD Research
Remote sensing of supraglacial lakes in East Antarctica
Ice sheet surface hydrology is an active area of research and has recently gained prominence regarding its role in ice sheet dynamics. Understanding surface hydrological interactions and how these may influence changes in ice sheet dynamics is crucial for accurately projecting future ice sheet mass balance and sea level rise contributions.
Supraglacial lakes form annually during the summer melt season on the Greenland and Antarctic ice sheets, forming extensive networks on grounded ice and floating ice shelves that are capable of storing and transporting meltwater. Meltwater transport from the drainage of these lakes can have a critical impact on ice sheet dynamics and mass balance, including meltwater-induced ice shelf collapse.
Even though these features are widespread, they remain relatively under-researched in East Antarctica, and in particular their behaviour during melt seasons and their relationship with ice sheet dynamics is unknown.
I am therefore using remote sensing data to gain insight into the potential influence of these surface lakes on glacier and ice shelf dynamics. I am particularly interested in how they evolve over seasonal and inter-annual timescales and how this may impact glacier and ice shelf flow on the East Antarctic ice sheet.
Funded by the Iapetus Doctoral Training Partnership (Natural Environmental Research Council)
Academic background
2018 Iapetus PhD - Durham University
Remote Sensing of supraglacial lakes in East Antarctica
2012 - 2016 MSci (Hons) Geography (1st class) - Durham University
Masters' research project: Recent outlet glacier terminus behaviour in Marie Byrd Land, West Antarctica
Supervisors: Professor Chris Stokes, Dr Stewart Jamieson
Dissertation: A combined geomorphological and numerical modelling assessment of the Loch Lomond Stadial in the Borrowdale Fells, Central Lake District: implications for paleo-ice dynamic reconstruction
Supervisors: Professor Chris Stokes, Dr Stewart Jamieson
Nominated for QRA dissertation award
Employment
2016 - 2018 Intertek Energy and Water Consultancy
GIS Scientist in the GIS, Modelling and Metocean team
Memberships
International Glaciological Society
International Association of Cryopsheric Sciences
Royal Geographical Society
Research Groups
Ice Sheets and Sea Level
Research interests
Antarctic surface hydrology
Remote Sensing of ice sheets