Overview
Mr Joshua Leigh
Research Postgraduate (PhD)
---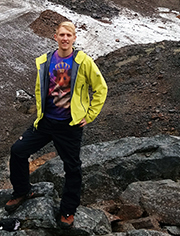 Biography
My research interests relate to the broad themes of glaciology, with a focus on glacial geochronology and geomorphology. I am particularly interested in glacial fluctuations since the Little Ice Age as a result of rapid, anthropogenically forced, climate change. Integrating a variety of methods including: GIS and remote sensing, field mapping, and relative age dating, to arrive at a comprehensive understanding of events and processes in contemporary glacial settings. I am also interested in science communication helping to "de-mystify" science and increase positive engagement with the "natural word".
PhD research
Past, present and future response of Norwegian glaciers to climate forcing
My PhD aims to investigate the extent and rate of glacier change in Northern Norway since the Little Ice Age maximum. This research is of great importance as there is continued need for reliable, accurate, and up-to-date assessments on how mountain glaciers are responding to anthropogenically forced climate change. Norway is one country where issues of glacier recession are particularly acute. Glaciers cover an area of ~2692 km2 and play an integral role in Norway's present-day productivity and identity, from local to national scale; glacier runoff is an important source of hydro-electric power and glaciers and guided glacier activities are important for tourism. Additionally recent glacial change has led to the development of proglacial lakes resulting in a currently unknown level of risk, as large Glacial Lake Outburst Floods (GLOFs) have been recorded over the past centuries.
Even though Norway has a rich history of glacial research, the majority has focused on the southern regions. Therefore, this project will provide opportunity for new research recording key data on the recent retreat of glaciers in central and northern Norway. It aims to determine contemporary glacier fluctuations (since AD ~1700 to present), across a range of climatic regimes, investigating glaciers that are under-studied and contain a range of glacier types, including very small glaciers which are known to be most vulnerable and sensitive (e.g. react quickest) to climate forcing.
Academic background
2015-16: MSc Environmental Science by Research (Distinction) - Queen Mary University of London
MSc thesis: "Testing the reliability of lichenometric dating in a continental high altitude site: a study in the Austrian Alps"
Supervisor: Dr Sven Lukas
Awarded Principles Prize for Academic Excellence
2012-2015: BSc (Hons) Geography (2:1) - Queen Mary University of London
BSc dissertation: "A multi methodological lichenometric approach to reconstruct historical fluctuations of the Hornkees glacier from extensive latero-frontal moraine sequences"
Supervisor: Dr Sven Lukas
Memberships
Quaternary Research Association
Research interests
Pattern, dynamics and timing of Holocene glaciations
Geomorphological signature and dynamics of valley and cirque glaciers
Active temperate glacial landsystems
The Anthropocene