Overview
Ms Kirsten Hall
Postdoctoral Research Associate
---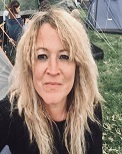 Biography
I am currently a ESRC Research Fellow exploring ideas and experiences of housing and home, referred to overall as The Home Project. Within this there is an emphasis on children, and issues regarding tenure, land use and what housing represents. This fellowship builds on my PhD which looked more specifically at how children who live with domestic abuse, view, experience and understand the idea of home.
This PHD research project came from a desire to learn more about housing issues faced by children who are living with domestic abuse. The catalyst for this was the High Sheriff of Tyne & Wear and alumna of Durham University, Ruth Thompson, OBE, who's stated goal for 2015 was 'to help children affected by domestic violence and abuse'. The project was funded by a consortium of donors from the housing sector, led by the Gentoo Group. My research involved qualitative interviews with professionals working in a range of housing and domestic abuse services respectively and, adult survivors of domestic abuse in childhood. By conducting the research through the lens of home it was possible to gain insight into the experience of children's day to day lives living with domestic abuse, for example the impact of coercive control. My findings have been presented internally and more broadly to organisations within housing, and the criminal justice system. I have produced a briefing paper which summarises the findings for a wider audience. Aspects of the findings in relation to childhood domestic abuse are in the process of being published, with more the findings in relation to home being published in the future.
Other Research
I have worked as a Research Assistant on three projects before starting my Fellowship:

1. Impact of Covid 19 on working mothers in higher education. This research was led by Professor Nicole Westmarland and Dr Kris Kovarovic. A short film was produced detailing findings and recommendations, and a report which was published in the TimesEd.

2. Impact of remote delivery of service for provision when responding to child and adolescent-to-parent violence and abuse. This research was led by Professor Nicole Westmarland and funded by RESPECT. The findings have been published in Children and Society.

3. What are experiences of male victims of domestic abuse during Covid 19. This research was led by Professor Nicole Westmarland was funded by RESPECT.
Research interests
Home, housing and land
Children and Childhood
Children and domestic abuse
Inequality and redistribution
Collective and communal space