Overview
Dr Maria Katsipataki
Research Associate
---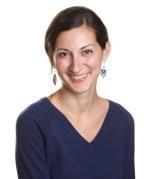 Biography
Maria Katsipataki is a Research Associate in the School of Education since 2012. She is involved in the development and updating of the Sutton-Trust Education Endowment Foundation (EEF) Teaching and Learning Toolkit. The Toolkit is an accessible summary of educational research which provides guidance for teachers and schools on how to use their resources to improve outcomes for learners. This works focuses on evidence synthesis of educational interventions, including systematic reviews and meta-analysis of existing randomised and non-randomised studies.
Her research interests focus on the use of evidence-based research in education to support policy and practice. In addition to the work with the EEF, she is also interested in the fields of developmental psychology and learning difficulties.
After achieving a Bachelor in Psychology, she gained an MSc in Reading, Language and Cognition from the University of York. Following that, she was awarded a Social Science & Health Interdisciplinary Scholarship from Durham University, where she completed her PhD. Her PhD thesis investigated the relationship of a newly developed motor skills intervention with academic performance in the early years.She has also worked as a literacy-support tutor in various areas of London helping children with learning difficulties.
Research interests
Making educational policy accessible
Impact of Early Years interventions on cognitive and academic outcomes
Relationship between academic and motor skills
Developmental changes in childhood
Developmental psychology and learning difficulties
Evidence-based educational interventions
Esteem Indicators
2000: 2013 Inspiration for Government award: Dr Katsipataki 

received the Inspiration for Government award (awarded by the Institute for Government) for her work on the Sutton Trust - EEF Teaching and Learning Toolkit.