Overview
Dr Petra Bauer
Assistant Professor (Teaching)
---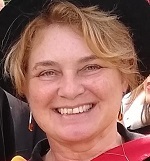 Biography
Petra Bauer is an assistant professor (teaching) in German with a passion for the teaching of competence in intercultural communication via the means of translation. In 2019 she started a telecollaboration project between her second-year ab initio students in German and second year students at the teaching university in Karlsruhe, Germany working on the cultural transfer in literary and factual translations. This project is now in its third year and proving incredibly popular and successful. It has sparked a series of presentations at language and ICC conferences, papers, and a monograph 'Potenziale der Binarität' together with her colleague in Karlsruhe. She sees translation as a bridge, a window between languages, cultures and ages and is happiest when she can infect her students with the 'translation bug'.

Professional Qualifications
I am a Chartered Linguist (Teaching and Translation), a Fellow of the Higher Education Academy, a full member of the Institute of Linguists (London), of the Association of Language Learning, of the Women in German Studies, of CultNet and of the E.T.A. Hoffmann Gesellschaft, Bamberg.
Publications
Article on E.T.A.Hoffmann in the Encyclopaedia of Literary Translation (Fitzroy Dearborn, London)
Translations into German of a PhD thesis on Richard Trunk by Anne Bentz, published by the town of Tauberbischofsheim
Joint book chapter with Raphaelle Beecroft "The Potential of a Telecollaborative Translation course: Virtual Exchange During the Pandemic and Beyond" in Christina Giannikas (ed.) Transferring Language Learning and Teaching from Face-To-Face to Online Settings. (2022). Hershey, PA: IGI Global. 108-129.
Upcoming publications
Raphaelle Beecroft/ Petra Bauer: 'Potenziale der Binarität' – Frank und Timme Verlag Winter 2022
Qualifications
1999

Keele University

PhD by research in Comparative German-English Literature
The Reception of the Works by E.T.A. Hoffmann in 19th Century Britain

1996

Keele University

Diploma of Translation (English into German)

1991

Keele University

Post-Graduate Certificate in Education (German with French)

1989

Keele University

M. Litt. in Victorian Studies

1986

Albert-Ludwigs-Universität, Freiburg i. Brsg.

Diplom in R.C. Theology
(M. Theo. equivalent)
Special Interest
My passion: translation, especially literary translation
"Translation is that which transforms everything
 so that nothing changes."  Günter Grass
Anthea Bell at a translation conference:
'All my professional life I felt that translators are in the business of spinning an illusion: the illusion is that the reader is reading not a translation but the real thing … a translation is successful if it is invisible.'
Translation is a bridge between languages, cultures and ages.
Translation enables dialogue and understanding.
Talks
I am a regular contributor at the Interlingua Conference at Durham University.

Beyond the Binary: The Potentials of Translation Tasks in Telecollaboration for Fostering ICC in Modern Language Teacher Education: CultNetVirtual April 2021.
Fostering Intercultural Communicative Competence in Higher Education Modern Language Programmes: The Potential of Telecollaborative Translation Courses; Intercultural Competence and Foreign Language Learning in HE: Present and Future Directions, University of Exeter 1st and 2nd of July 2021.

Teaching Experience
After having spent many years teaching first in the German Department at Keele University, then at various schools and colleges in London and for the Diplomatic Service Language Centre I started working for Durham University in January 2002, initially teaching German on the European Studies course on the Stockton and Durham site Since December 2004 I have been working in MLAC German Section teaching on the Core modules in German, the German 1b and 2b modules and on the translation module. I am course convenor for German 2b and Translation
I am also the Year Abroad Coordinator for the German Section and member of the interest group on Internationalisation and of the Translation Zone at MLAC.