Overview
Miss Rebeca Suarez Ferreira
---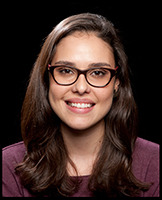 Biography
Background
I hold a BA in anthropology, where I focused in archaeology, from the School of Human Evolution and Social Change at Arizona State University.
I completed the MA Conservation of Archaeological and Museum Objects with the Department of Archaeology at Durham in September of 2015.
My current research is preliminary titled: A Critical Epistemology of Moveable Heritage Conservation within the UK Heritage Sector.
I also recently worked as a part-time objects conservator in Cambridge.
Research Funding & Awards
2017: Associate Fellow of the Higher Education Academy
2017: Norman Richardson Post Graduate Research Fund
2017: York Foundation for Conservation and Craftsmanship Bursary
2017: Rosemary Cramp Fund
2016: Ustinov Travel Grant
2016: Norman Richardson Post Graduate Research Fund
Papers, Posters, & Presentations
2019
Fanned Curiosity: How Conservators Negotiate the Care of Museum Collections. Paper given at the Association of Social Anthropologists 2019 Conference: Anthropological Perspectives on Global Challenges, Ferality and Fidelity: Conservation as a Space of Social Reproduction Panel.

University of East Anglia,

Norwich.
2017
An ethnography of practicing object conservators: lessons learned from their knowledge production. Presentation given to the Antioch Archaeology Group, Durham.
2016
Investigating the Evidential Function of Conservation Records. Paper accespted by the journal Kaleidoscope, Evidence Edition, Durham Univesity.
Revealing Evidence to inform Conservation: The Case of a Tibetan Buddhist Prayer-Wheel. Poster given at Accessing the Past: Evidence of Artefacts Conference; organized by the Artefacts Research Group, Archaeology Department, Durham University.
2015
The Conservation of a Tibetan Prayer-Wheel. Invited to present the paper at Glasgow Museums 8th Annual Collections Research Conference, sponsored by Glasgow Museums, Glasgow Life.
Bronze Disease Detection: An FTIR Analysis of Archaeological Copper Alloy Objects Enabling The Burrell Collection Decant. Paper presented at The Human Past: Multidisciplinary and Global Perspectives on Archaeology and Heritage Conference, sponsored by the Society of Archaeological Masters Students (SAMS), University College London Institute of Archaeology.
2013
Ritual Equivalency of Macaws and Copper Bells in Mesoamerica and the Southwestern United States. Paper presented at The Annual Honors Symposium, sponsored by Barrett the Honors College, Arizona State University.
2012
Mogollon Prehistoric Landscapes Project Artifact Catalog, Arizona State University October 2012, Dr. Karen Schollmeyer, Dr. Margaret Nelson, Will G. Russell, Rebecca Harkness, and Rebeca Suarez.
Memberships of Professional Institutes
Association for Social Anthropologists (ASA)
Institute of Conservation (ICON)
Member of the ICON-Documentation Network
International Council of Museums - Commitee for Conservation
Member of the Theory and History of Conservation Working Group