Overview
Mr Richard Houghton
Advanced Technician
---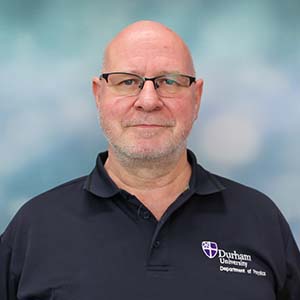 Biography
I started my career as an apprentice Electrical Fitter in Devonport Royal Dockyard, completing my Indentures and leaving after 10 years as a Professional Technical Officer (Diagnostician) (PTO Diag) responsible for the setting to work of Weapon Systems on Royal Navy ships.
I transferred across within the Ministry of Defence (MoD) to start a new career in the Royal Fleet Auxiliary, one of the fighting branches of the Royal Navy, as an Electrical Officer. After the Radio and Electrical branches merged and being rebranded as a Systems Engineering Officer, my role was to maintain all and any electrical and electronic equipment on board the ship; this included Radar, communications, Navigation, weapons, generators, electrical distribution, galley, laundry, aircraft facilities, etc. In fact, if it used electricity, it was mine.
Although my specialisation was in the Electrical discipline, the nature of the work required me to have a working knowledge of hydraulics, pneumatics and mechanical engineering, working closely with the ship's Marine Engineers.
After 33 years and several promotions, I retired as a Senior Officer and had been the Head of the Systems Engineering Department on every ship for the last 22 years of my service with the responsibility of ensuring the maximum availability of all equipment so the ship could meet its commitments.
Having been on a career break for a while and to avoid further atrophying of the brain, I joined Durham University as an Advanced Technician where I can put the experience and knowledge I gained in my previous career to good use in a new job sector.
I am a keen advocate of Personal Development and have sought to better myself professionally over the years. I am a Chartered Engineer (CEng), Chartered Marine Engineer (CMarEng), a Fellow of the Institute of Marine Engineers, Science and Technology (FIMarEST), a Fellow of the Chartered Management Institute (FCMI) and a Fellow of the Society of Naval Architects and Marine Engineers, Singapore (FSNAMES). Professional Registration is something I believe any engineer should aspire to and, on behalf of the Engineering Council, I am a Lead Assessor for candidates applying for Chartered Engineer and Incorporated Engineer. As the Government strives to standardise the quality and level of apprenticeships, I also act as an End Point Assessor for trainees applying to complete their apprenticeships and become qualified engineers.