Sophie Edwards
Thin Section Technician Case Study – Earth Sciences
I joined Durham University as a trainee thin section technician in August 2016 in the Department of Earth Sciences. I had no previous experience of a laboratory setting or any experience with any machinery before this role.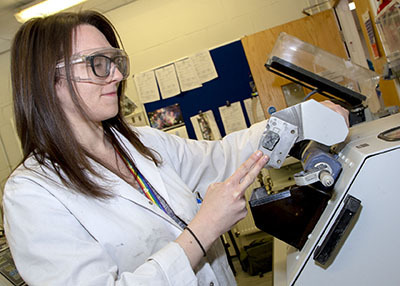 During the first year of being a trainee as there is no course that teaches the skills needed, most of my training was spent in the thin section lab with my mentor who has years of experience and knowledge. The training was hands-on and learning how to prepare thin sections manually before introducing any machines into the process. Once I could prepare manually, machines were introduced one by one to help me gain confidence.
In September 2016 I visited another thin section lab at the Open University for a week, working with them and seeing how they prepare sections. Here I gained knowledge on other preparation techniques and different types of consumables to the ones I had been introduced to in Durham.
In order to continue my development, I attended a three-day course run by Logitech in Scotland. This course was run by the technicians at Logitech and showing the process using all Logitech equipment. This was beneficial to my skills as because I had already spent nearly a year in the Durham lab, working with Logitech equipment, this course reinforced the knowledge I had gained in my first year. Later in the year I also attended a training course run by Heated at the University of Sheffield in the maintenance and applications of light microscopes.
At the end of my first year being a trainee thin section technician I earned an upgrade which meant I became a technician.
One of the most beneficial experiences of my training and development was helping my mentor organise a Geo-materials symposium at Durham University in September 2017. We invited most of the thin section technicians from across the country to attend presentations from other technicians and suppliers, about preparation techniques of different samples. It was a successful day as there were 50 thin section technicians in the same room in which I could meet and network with. It was so successful that we are now helping to organise a second one in September 2019 at Leeds University with similar numbers.
I feel as though I am still constantly learning with each new material that comes into the lab for thin sectioning. The samples for sectioning come from a wide range of sources, lots of the work is from within the Earth Sciences Department, some comes from other departments in the university and a lot of work is from external contracts. The samples have ranged from dinosaur teeth to meteorites.
I have been to other universities and institutions around the country looking at their laboratories and how they work on their samples. I have been to the University of Glasgow, University of Stirling and Natural History Museum, all of which prepare different materials and use different processes and techniques to get the same result.
As my experience has grown, I now have more responsibility in my role as a technician, looking after equipment, keeping it maintained and ordering consumables. I'm also training some students on how to use some of these machines which includes informing them of the various aspects of sample preparation, from health and safety to how to get the most out of their samples.