Overview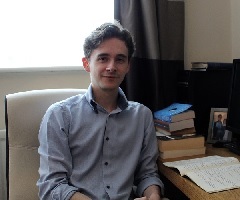 Biography
Adam is a Ph.D. candidate, part-time tutor, and a deputy-director of the Global Law and Justice research cluster, at Durham University. He obtained his LL.B at Newcastle University in 2016 and his LL.M (also from Newcastle University) in 2017. He worked as a research assistant for Professor O'Donoghue in 2019, composing compendiums on the Security Council as a world legislature and the Security Council's counter-terrorism regimes.
Publications
Adam Rowe, 'The Dilemma of Causation in International Legal Theory' (2020) Edinburgh Student Law Review (upcoming)
Adam Rowe, 'Soft Sovereignty: A Possible Basis of the Legality of Humanitarian Intervention' (2018) 6 North East Law Review 90
Research
Adam's research interests concern the theory of international law. He has written about the political nature of state sovereignty and its influence upon the legal nature of certain norms, and the problems of causation implicit within contemporary legal theories. His current research explores issues of international legal ontology. Specifically, it seeks to apply a Nietzschian framework to international lawyers in order to explore the processes of production, change, and termination of international legal norms.
Teaching Areas
Public International Law
UK Constitutional Law
Land Law