Overview
Dr Alessandro Borghi
Assistant Professor
---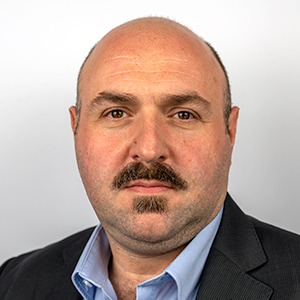 Biography
Dr Alessandro Borghi was awarded my Master of Engineering (Meng) from Politecnico di Milano and was afterwards offered a position as a PhD student at the department of Chemical Engineering of Imperial College London. His PhD project focused on numerical modeling of fluid-solid interaction in pathological arteries. After finishing, he worked as R&D engineer in a medical device company on a project for the design of novel cardiovascular devices for the treatment of heart failure. In 2009 he returned to academia to work as Research Fellow on a Wellcome Trust sponsored project, working on the mechanical optimization of the delivery method of a novel pressure sensor for wireless pressure monitoring. While at Imperial College, he also collaborated with the Heart Science Centre - working on mechanical testing of heart valves to understand the effect of extracellular matrix components on tensile and viscoelastic properties.
In 2013 Dr Borghi joined the Great Ormond Street Institute of Child Health as Senior Research Associate and moved to a novel field of research such as that of Cranio-maxillofacial surgical procedures and devices.
Dr Alessandro Borghi's current research focuses on the analysis and design of the devices used in craniofacial surgery: he has applied numerical modelling to understand and predict the outcome of procedures such as spring cranioplasty and fronto-facial distraction, and is currently investigating the use of novel materials, such as shape memory alloys and biodegradable metals, for the design and prototyping of novel devices for distraction osteogenesis.
Dr Borghi's models for performance prediction of craniofacial distractors have been published in peer reviewed clinical and engineering journals and constitute now a tested in-silico model for trialing new devices before first-in-man application. Such work has been presented at several engineering and clinical conferences, which have served as a platform for me to drive and establish several international collaborations (Boston Children's Hospital, Italian National Research Centre, University of Bologna, Erasmus Medical Center, Connecticut Children's Hospital, Laval University). Dr Borghi has been funded by the National Institute of Health Research Biomedical Research Centre and the Great Ormond Street Hospital Charity.
Research interests
Biological Tissue Characterisation
Biomaterials
Biomechanics
Finite Element Analysis
Machine Learning
Medical Devices
Medical Image Processing
Medical Instrumentation
Numerical Modelling
Statistical Shape Modelling
Surgical Planning
Esteem Indicators
2000: Membership: European Society of Biomechanics (ESB) Member (since 2016)
Virtual Physiological Human Institute (since 2020)
Member of the Institute of Engineering and Physics in Medicine (since 2020)
Associate Fellow of the Higher Education Academy (since 2022)
2000: Editorial Activity: Frontiers in Bioengineering and Biotechnology: Associate Editor
Frontiers on Oral Surgery – Section Oral and Maxillofacial Surgery: Review Editor
2000: Peer-reviewing: Journal of Plastic, Reconstructive and Aesthetic Surgery, Journal of Orthodontics, Plastic & Reconstructive Global Open, Bone, Metals, JBiomech, BMMB, CMBB, International Journal of Artificial Organs, Med Eng Phys, Comput in Biol and Medicine, Numerical Methods in Biomedical Engineering, Frontiers in Bioengineering and Biotechnology, ASME SB3C Conference (Student Paper Competition)
Supervision students
Mr Chengwei Yan
Research Postgraduate – Bioengineering Node