Overview
Dr Alexis Radisoglou
Assistant Professor / Director of Studies
---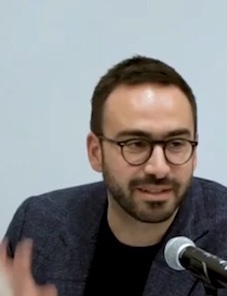 Biography
Alexis Radisoglou's research interests are in the field of 20th-century and contemporary literature, film, and visual culture, with a particular focus on comparative, transcultural, and interdisciplinary forms of enquiry. Located at the interstices of aesthetic and cultural theory, political philosophy and the environmental humanities, most of his work is concerned with the role of aesthetic production in negotiating the political, historical and epistemological challenges of the contemporary condition of globality.
He is currently engaged in two research projects titled, respectively, 'Post-Global Aesthetics' and 'Eurozone(s): Literary Imaginaries of Contemporary Europe'. For the latter project, he was awarded a Leverhulme Research Fellowship for the academic year 2022-23.
Dr Radisoglou received a BA in Modern Languages and Literatures from the University of Oxford, and a PhD in German and Comparative Literature from Columbia University, New York. Before coming to Durham, from 2016-2019 he was a Fellow of Lincoln College and a member of the Faculty of Medieval and Modern Languages at the University of Oxford. Besides his activities in the field of German Studies, he is an inaugural member of the international research network 'Greek Studies Now', initiated in 2019 by the Universities of Oxford and Amsterdam. Together with Professor Claudia Nitschke, he was also the co-convenor of an international postgraduate summer school titled 'Dis/Connections: Vernetzung und Digitalität in der deutschsprachigen Gegenwartsliteratur', which was held at Durham in July 2023.
Dr Radisoglou is on research leave during the academic year 2023-24.
PhD Supervision
Candidates interested in pursuing a PhD in areas such as contemporary German literature and film; political aesthetics; (post-)global culture; environmental humanities; transculturality; contemporary Europe and the European/global South; comparative literature; critical theory; and modernist studies are encouraged to get in touch via email.
Esteem Indicators
2022: Leverhulme Research Fellowship: for the project 'Eurozone(s): Literary Imaginaries of Contemporary Europe'