Overview
Mr Andrew Davies
Senior Technician (Mechanical)
---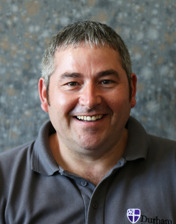 Biography
Responsibilities within department
To develop and construct complex and precision apparatus for teaching and research; to provide mechanical engineering support to teaching laboratories and research groups within the Department of Physics.
Qualifications
HNC in Mechanical and Production Engineering.

ONC in Mechanical and Production Engineering.

HAAS CNC Milling

FANUC CNC Lathe

Lean Manufacturing – Theoretical & Practical Training

Health & Safety in the Workplace

Fork Lift Truck Driving & Handling (also Instructor Qualified)

C&G CNC Machine Setting, Operating & Part Programming
Personal Statement
My engineering career began at Blue Diamond Engineering Limited in 1988 where I was employed as an Apprentice Machine Shop Engineer. In 1992 I was promoted to Machine Operator which involved the CNC and manual machining of bespoke items. In 2000 I was promoted to Team Leader CNC Lathes/Senior Programmer & Setter, managing a team of twelve machine operators.
In 2007 I successfully applied for the role of Prototype Design Engineer for Covercat Spray Systems Limited, encompassing all aspects of prototype design engineering. From initial equipment consultations to determine the performance requirements of the machinery, I was responsible for component design and development, continuous improvement considerations, component manufacture and testing.
I joined Durham University as a Mechanical Workshop Technician in 2010. As a multi-skilled precision engineer my fine tolerance expertise and creative thinking have enabled me to participate effectively in the design, development and manufacture of scientific equipment for research and teaching for various research groups throughout the department.