Overview
Mr Andrew Hunter
Technical Manager (Electronic Engineering Services)
HNC Electronic
---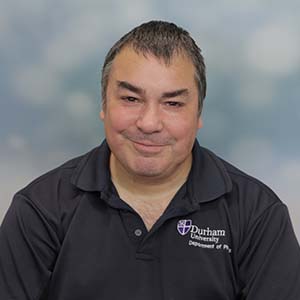 Biography
Responsibilities within department
IT Services and Networking General IBM PC/ clone hardware and software Networking managment Some electronic development (not very often) based around pc's with the help ofelectronics workshop and electronic research and development lab.
Teaching activity
none
Responsibilities within the department
Design and construct electronic equipment.
Micro controller software design.
Qualifications
HNC in Electrical & Electronic Engineering.
Personal Statement
I joined the University in 1986 within the University main IT department looking after all types of IT equipment and went on to do networking.
In 1994 I moved to the physics department to Join Electronics Workshop building electronic equipment. After about 5 years I was asked to co-start a departmental IT section for physics mainly looking after the network and admin staff computing.
In 2015 I came back to the Electronics Workshop to re-pursue an electronic career after my spell within IT.
Technical Skills
A range of technical skills covering Microcontrollers (Microchip Pic and Arduino systems), Analogue Electronics, Cad Design Software.
Knowledge of Microsoft windows / Linux system administration.
Knowledge of C programming, Python, Visual Basic, Linux Scripting, PHP, HTML, MySQL.
Interested in embedded Linux, Control applications.
Related Links