Overview
Professor Andrew Wood
Professor (Early Modern Social History)
---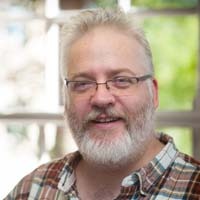 Biography
I am originally from Greater Manchester. I was lucky to study as an undergraduate at the University of York, in the Department of History (1985-88). I was equally fortunate to work with Keith Wrightson, who supervised my doctoral work at Jesus College, Cambridge. This focused on the history of Derbyshire mining villages in the seventeenth century. Eventually, my doctoral dissertation formed the basis for my first book, albeit with a rather longer chronology. I have held a Scouloudi Research Fellowship at the Institute of Historical Research (1992-3), a British Academy Research Fellowship at University College London (1995-6), a Leverhulme Research Fellowship (2006-8), a Fellowship at Durham University's Institute of Advanced Study (2012), a Fellowship at the Folger Shakespeare Library (2016), and a Fellowship at the Henry E. Huntington Library (2017). I have held teaching positions at the University of East London (Dept. of Cultural Studies, 1992-3) the University of Liverpool (Dept. of Economic and Social History, 1993-5) and the University of East Anglia (School of History, 1996-2013). In April 2013, I joined the Department of History at Durham University as Professor of Social History. I have acted as historical advisor on the play 'Common' at the National Theatre and am currently woirking as historical advisor on a play depicting the Eyam plague of 1665 to be staged at the Globe Theatre. I have written for BBC Radio 4 and have appeared several times on BBC Radio and on Channel Four.
Together with Stephen Taylor (Durham) and Tim Harris (Brown), I edit Boydell and Brewer's Studies in Early Modern Cultural, Political and Social History monograph series.
Doctoral supervision
I am happy to supervise research students working in any aspect of English social history (broadly conceived!), c.1480-1850. I specialize in the use of archival court records to 'get at' the mental worlds of that diverse group whom the Levellers called the 'poorer and middling sort of people': traders, farmers, artisans, labourers, cottagers, smallholders, miners, weavers, and the poor. Increasingly, I also find myself interested in the ruling elite of early modern society - the gentry and the nobility. I am interested in the comparative history of social memory and I have written some science fiction criticism. I also have an interest in the history of the British Left in the late twentieth century.
Doctoral work I have supervised, or am currently supervising:
Crime and punishment in early modern England, with special reference to seventeenth-century Norfolk
Magic and popular culture in industrial England, c.1750-1850
Antonio Gramsci and the politics of New Labour
Gender and social relations in seventeenth-century Norfolk
Custom, memory and place in the Forest of Dean, c.1500-1800
Custom, gender and power in early modern Essex
Governance, social relations and popular politics in eighteenth century Norwich
Social mobility and the social production of capital and gentility in early modern England: the Newtons, c.1520-1743
Power, ideology and "Country politics": episodes from Derbyshire, c. 1660-1760
Yorkshire litigation at the Jacobean Court of Star Chamber
Political thought and litigation in Elizabethan Norfolk
Prostitution in London and Paris, 1660-1740
Research projects
I am Principal Investigator on the project 'Everyday Life and Social Relations in England, 1500-1640'. This is funded by the Leverhulme Trust in the shape of a Research Project Grant and an AHRC Research Leadership Fellowship. The project runs between 2015 and 2019. It will culminate in my fifth book, Faith, Hope and Charity: English Communities in Conflict, 1500-1640. This is contracted to Cambridge University Press.
My sixth book, intended for a wider readership, will be entitled I Predict A Riot: A History of the World In Twelve Rebellions. This is contracted to Atlantic Books.
I am a member of the 'Cities in History' research group located in the Institute of Medieval and Early Modern Studies.
Awards
In 2014, the American Historical Association awarded my fourth book, The Memory of the People: Custom and Popular Senses of the Past in Early Modern England the Leo Gershoy Award. The Memory of the People was also shortlisted for the Katharine Briggs Award by the Folklore Society. In 1999, my first book, The Politics of Social Conflict: the Peak Country, 1520-1770 was declared proxime accessit to the Royal Historical Society's Whitfield Prize.
Research interests
English social history, c.1500-1750, especially: popular politics; riot and rebellion; social relations; custom and the law; popular memory; literacy and oral tradition; social and economic change
The mid-Tudor crisis
The English Revolution
Comparative and interdisciplinary approaches to social memory
Esteem Indicators
2000: Proxime Accessit for the Whitfield Prize: Awarded by the Royal Historical Society
2000: Leo Gershoy Award from the American Historical Association: awarded for my fourth book, The Memory of the People: Custom and Popular Senses of the Past in Early Modern England (Cambridge University Press, 2013). This was also shortlisted for the Katherine Briggs Folklore Award