Overview
Miss Benedetta Panisson
PhD Research
---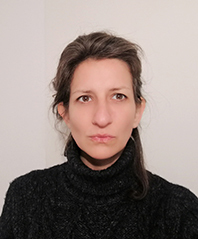 Biography
Academic Research and Art Practice
I am currently engaged in my PhD research in the School of Modern Languages and Cultures, Sexual Exorbitance in Island Spaces: Experimental Displays of Human and Animal Life. One of the main goal of the project will be to work on the notion of sexual exorbitance, intertwining both theoretical study and art practice. The definition of this notion will start from the specific territory of island and water spaces. The project analyses the aesthetics of visual exorbitance in human and animal sexualities. It explores how varieties of visual exoticism have emerged historically in island environments in response to colonial exploitation and cultural inter-dependence, and considers the involvement of direct and indirect 'publics'. I argue that visual encounters stimulate a contradictory attraction-surveillance dynamics, determining the interstitial character of sexual subcultures within both normative and experimental representation. I examine insular structures of feeling oscillating between practitioners, interpreters, and consumers of sexual exorbitance. During this PhD I will explore the conceptual, cultural and aesthetic foundations underlying the relation among the visuality of sexual manifestations, insular and water spaces, and artistic performativity. The project culminates in an exhibition that explores human and animal performativity from the practitioners' point of view. I was born in an island (Venice), this aspect will support a critical approach in relation with the current state of island studies as, mainly, a study from the mainland, proposing a visual gonzo and intimate perspective on the subject. The creation of an archipelago of voices and participants will determine the plurality of the outcomes.
My project draws on and extends a series of artistic projects exploring relationships between sexual communities and practices, exotic island spaces, and aesthetically constructed waterscapes. Since 2004, I have engaged in a range of international art practice and curatorial collaborations, critical conversations, and site-specific exhibitions. The media partner of the PhD project is PHROOM, an international visual art platform where some selected project materials will be shared during all the research period and constantly updated.
My study interests and art practice are broadly concerned with gender and queer studies, visual studies, feminisms, live performance, photography, video installation, and water territories.
2023
Sexual Display from the Abyss: Octopuses between Heteronormativity and Exorbitance. Published on Matter: Journal of New Materialist Research, Vol. 7, March 2023
https://revistes.ub.edu/index.php/matter/article/view/42245/39314
DOI: https://doi.org/10.1344/jnmr.v7i1.42245
2022
The Sexuality of the Uncontacted on a Video Tape, Cambridge University, Indigenous Studies Discussion Gruop, Cambridge, UK.
https://www.youtube.com/watch?v=aNRRlkBxhzY

Sexual Display from the Abyss: Octopuses between Heteronormativity and Exorbitance, 11th European Feminist Research Conference, AtGender, Milano-Bicocca University, Milano, It.
Benedetta Panisson (1980, Venice) is a visual artist working with film photography, video installation, live performance and drawing, interweaving art practice with academic research. Her research focuses on extended relations among sea and insular territories, bodies, imaginaries, communities, and their margins, mainly in relation with sexual aesthetics, visual, gender and queer studies. It is rooted also in her PhD research at Durham University, UK (2020-ongoing, Sexual Exorbitance in Island Spaces. Experimental Displays of Human and Animal Life), after a BA in History of Arts at Ca' Foscari University, Venice, and a MA in Performing and Interactive Arts at Brera Academy, Milan. Among her participations and academic collaborations: Onassis Cultural Centre (Athens); Royal College of Art (London); Contingent Movements Archive (Maldives Pavillion, 55th Venice Biennale); TEA, Museum of Contemporary Art of Tenerife (Canary Islands, Spain); Bevilacqua la Masa Foundation (Venice); International Prize for Performance (Marina Abramovic/Centrale di Fies); Der Greif; Bozar (Bruxelles); Frieze Art/Paul Smith (London); Galleria Riccardo Crespi (Milan); UNESCO/COAL Prix (Paris); Galleria Civica di Arte Contemporanea di Trento; Centre International des Récollets (Paris);Furla Art Award; Project Space Berlin; Milano-Bicocca University; Centro Pecci; International Sarajevo Winter Festival; Istituto Veneto di Lettere, Scienze ed Arti (Venice); Ca' Foscari University/European Centre for Living Technology; La Guarimba Film Festival (Italy); Fotofilmic (Canada); Care of (Milano); Phroom; Office Project Room Gallery, Milan.