Overview
Mr Budhaditya Bhattacharyya
---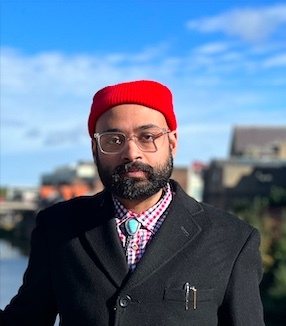 Biography
Awards/grants (selected)
Durham Doctoral Studentship, 2019
British Forum for Ethnomusicology Fieldwork Grant, 2022
Budhaditya Bhattacharyya is researching a music history between Bengal and Britain, under the supervision of Professor Martin Clayton FBA, and Professor Laura Leante. In documenting musical histories that are not only of 20th-century Britain but also Bengal and the wider Indian subcontinent, Budhaditya attempts to trace the contestations of 'Bengaliness' in the backdrop of evolving political, socio-economic and cultural realities in desh (home) and bidesh (away). Through simultaneous engagement with oral histories, old local and national newspapers, written memoirs, ephemera, and governmental records, his project documents the musical lives of these people both from a bottom-up and top-down approach. His multilingual project primarily involving Sylheti, Bangla and English sources encounters with two primary themes: citizenship and identity. Currently, Budhaditya is writing up his thesis.
Budhaditya read for an MA Music in Development at SOAS, after obtaining a BSc (Hons) in International Relations from the University of London as a flexible learning student.
As a vocalist, composer, and teacher, Budhaditya specialises in khayāl, besides also continuing training in dhrupad, dhamār, sādrā, ṭhumrī, dādrā and raga-allied Bengali songs; he has numerous performances to his credit in India, and the UK, besides continental Europe, and Thailand. He is a senior disciple of Pandit Ajoy Chakrabarty, continuing to learn from him for over a decade, after having trained with his mother and different teachers from the age of 3. In June, 2019, Budhaditya was invited by the China Conservatory of Music in Beijing to conduct lecture-demonstrations on Hindustani classical music. In the UK, Budhaditya is also expanding his repertoire of rare ragas and talas under the tutelage of Ustad Mehfooz Khokhar.
Currently, he also serves on the Editorial Board of a peer-reviewed academic journal on audiovisual culture, Sonic Scope, co-published by Goldsmiths, University of London/ MIT Press.
Professional affiliations (selected)
Fellow of the Royal Asiatic Society of Great Britain and Ireland
British Forum for Ethnomusicology- member
International Council for Traditional Music- member
Research areas
Bengal, the Indian subcontinent and its diasporas
Research interests
Performance and composition; Music history; Ethnomusicology and anthropology of music; Music iconography; Sound studies; Ecomusicology
Teaching and other roles
Guest lecturer for MUSI2771 The Music of India.
Co-lecturer for joint sessions of MUSI42960 Ethnomusicology in Practice and Theory, and MUSI43160 Contemporary Musicology.
Senior representative of the Board of Studies, the Postgraduate Committee, and the Postgraduate Student Staff Consultative Committee. Organised the 2020/21 departmental postgraduate research seminars.