Overview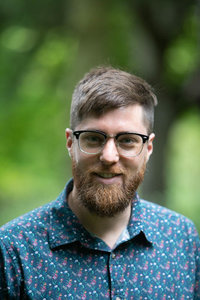 Biography
I come from Aotearoa New Zealand, with ancestors coming from England (including Durham), Scotland (including Shetland) and Switzerland in the 19th and 20th centuries. I currently live in Newcastle upon Tyne with my partner Hilary. My previous education includes a Master's degree in theological ethics from the University of Notre Dame and sociology degrees from NZ universities. Equally important for forming my thinking has been my time in Christian churches and intentional communities in Aotearoa (Stillwaters Community, Catholic Worker, Urban Vision). I am passionate about mental health, LGBTIQ+ justice, politics, film, music, and puns.
Dissertation
Tentative title: "Word and Flesh: Methods in Evangelical Ethics of LGB+ relationships"
The evangelical churches continue to cause serious harm to God's LGBTIQ+ children. There is both considerable division and significant development among evangelicals and other Christians on the question of whether erotic relationships between couples who are not binary-gendered, cisgender, and heterosexual can be accepted and blessed by churches.
For my PhD in Theology and Religion, I am analysing and evaluating methods used by evangelical Christians to understand and discuss the ethics of homoeroticism (sexual or otherwise erotic/romantic relationshpis between people perceived to be of the same gender and/or sex). I am looking at people who identify as evangelicals, inside and outside academia, from both affirming and non-affirming perspectives, who have written or spoken at some length in English, and whose views are currently influential.
This research involves examining explicit and implicit methods in Christian ethics as well as surveying and analysing evangelical understandings of gender, sex, and marriage. It brings together my interest in ethical methods with my evangelical background and my passions for equity, inclusion, and wellbeing—particularly for LGBTIQ+ people. I hope my work can help improve understanding of evangelical and other Christian perspectives. I also hope it can help evangelicals and other Christians in our reflection on our God-given revelation and mission, and to find a place in that picture for LGB+ relationships to thrive in our communities.
Research interests
Anarchism
Economic justice
Structural sin
Political realism
Mental health
Social sciences
Methods in Christian ethics
Natural law
Divine command ethics
Evangelicalism
Gender
Sex and sexuality
Liberation theologies
Political theologies
Pacifism