Overview
Dr Can Eken
Assistant Professor
---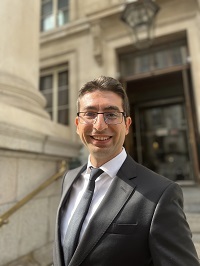 Biography
Affiliation
Assistant Professor in Commercial Law
Member of Durham International Dispute Resolution Institute
Dr Eken currently serves as an assistant professor at Durham Law School. He is a triple-qualified lawyer, admitted in California, Turkey, and England and Wales. He is also a Fellow of the Chartered Institute of Arbitrators. He was a visiting scholar at Stanford University and the Max Planck Institute in Luxembourg for Procedural Law.
He has authored numerous publications on international commercial arbitration, investment law, third-party funding, and online dispute resolution. He is the recipient of the 2021 Postgraduate Research Output Award from the Chinese University of Hong Kong. He is also a finalist of the 2021 Asian Law Junior Faculty Workshop from the National University of Singapore as well as the 2019 UNSW Herbert Smith Freehills China International Business and Economic Law (CIBEL) Global Network PhD Scholar Prize in Sydney, Australia.
Dr Eken is regularly invited to speak in international conferences and offer consultancy services to law firms on international arbitration as well as law matters in California and Turkey. Among his professional activities, he has lectured in various jurisdictions including Turkey, Hong Kong, India, Uzbekistan, and Kazakhstan. He has acted as a peer reviewer in several journals, including Asia Pacific Law Review. He has served on the Executive Secretariat of the Asia Pacific FDI Network and the panel of arbitrators at the Shanghai International Arbitration Centre and Thailand Arbitration Centre.
Prior to joining the faculty at Durham, Dr Eken was a practising lawyer in Turkey following a brief stint as a research assistant. He completed a PhD degree at the Faculty of Law at the Chinese University of Hong Kong. He also completed the two LLM degrees, one from the London School of Economics and Political Science and another from Dokuz Eylul University, where he also obtained a bachelor's degree in law with high honours.
Research groups
Centre for Chinese Law and Policy
Centre for Law and Global Justice
Research interests
Alternative dispute resolution methods
Commercial mediation
International commercial arbitration
Investment law
Online dispute resolution
Third-party funding