Overview
Professor David Cowling
Professor / Head of School
---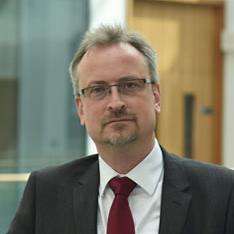 Biography
Research Interests
Having completed my undergraduate and doctoral studies at Magdalen College, Oxford, and having spent ten years as Lecturer, Senior Lecturer and (latterly) Reader in French at the University of Exeter, I moved to Durham in 2003 to take up the Chair in French vacated by the late Ann Moss. I am interested primarily in the application of elements of cognitive metaphor theory, as developed by George Lakoff and others, to the analysis of late medieval and early modern French texts, with particular reference to political and polemical discourse. Having published in the first instance on metaphors of the building in French allegorical texts, I have more recently turned my attention to metaphors of economic exchange in the polemical works that were motivated by the debate on linguistic borrowing from Italian into French in the later 16th century, focusing primarily on the vernacular writings of Henri Estienne. I also retain an interest in the reception of classical writers in Renaissance France, with particular reference to the works of Quintus Ennius, and in the language of Jean Lemaire de Belges and his exemplary role in the teaching of French in early modern England.
I am a member of the Durham Institute of Medieval and Early Modern Studies (whose taught MA programme I directed between 2006 and 2008), and the Durham Centre for Classical Reception. I co-directed a series of interdisciplinary research dialogues on the theme of Metaphors as Models for the Durham Institute of Advanced Study in 2008, and have more recently run, in collaboration with colleagues at the Universities of Groningen and Copenhagen, a series of interdisciplinary colloquia on the topic 'Authority and Persuasion: the Role of Commonplaces in Western Europe (c.1500-c.1800)'.
I served as Head of the School of Modern Languages and Cultures from 2004 to 2005, and from 2008 to 2011. I served as director of Durham's Institute of Medieval and Early Modern Studies between 2011 and 2013 and as Pro-Vice-Chancellor (Arts and Humanities) between January 2014 and August 2019. In this latter role, I had executive responsibility for the University Library and Special Collections, and for the University's relationship with Ushaw College and The Auckland Project. In this latter capacity I initiated and led the development of the Durham Residential Research Library and the Zurbarán Centre for Spanish and Latin American Art. I also led the University's work on the Scottish Soldiers project and its divestment from companies involved in fossil fuel extraction. I resumed the headship of the School in 2021.
I chair the newly established UCML Special Interest Group for Heads of Languages in UK HE.
Research Supervision
I am happy to supervise research students working in the following areas:
Late medieval French poetry and historiography
Sixteenth-century French studies
French historical linguistics of the early modern period