Overview
Dr Helen Mackay
Assistant Professor
---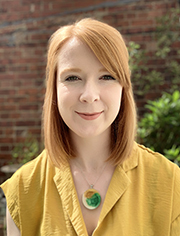 Biography
2020 - present: Assistant Professor, Department of Geography, Durham University
2019 - 2020: AHRC Research Associate, Newcastle University. Waves of colonization around the Sea of Moyle
2017 - 2020: Physical Geography Lecturer, Geography, Politics and Sociology, Newcastle University
2017 - 2018: Wellcome Trust Seed Award Research Associate, History, Classics and Archaeology, Newcastle University. Biofuels and respiratory health - potentials of the archaeological record
2015 - 2017: AHRC Research Associate, Newcastle University. Celtic connections and crannogs
2011 - 2015: PhD, University of Southampton. Testing peatland-carbon responses to late Holocene environmental change in eastern North America
2007 - 2011: BSc Environmental Chemistry and Geography, University of Glasgow, First Class honours
Current Research
My research combines organic geochemical and palaeoecological approaches to study long-term environmental change and interactions between humans and the environment. My primary focus is the analysis of molecular fossils (lipid biomarkers) extracted from terrestrial sedimentary archives (lakes, peatlands and wetlands) to reconstruct the presence of humans and animals in the landscape and examine natural and anthropogenic drivers of ecosystem change.
I am particularly interested in the development and application of faecal lipid biomarkers within studies of paleoenvironmental change and geoarchaeology. For example, I have recently used these lipid biomarkers in multi-proxy studies to characterise Scottish prehistoric wetland settlement use, track bird Holocene bird migration patterns in Greenland and refine Pacific island colonisation times.
Research Projects
Long-human environment interactions in Western Siberia
Funded by NERC UK-Arctic Bursary Programme.
Together with colleagues from Tyumen State University, Bournemouth University, Newcastle University and University of Southampton, we aim to characterise the timings, intensities and economies of occupations associated with Neolithic settlements discovered at Lake Mergen, western Siberia. This is one of the first settled locations in the region and is thought to have played a pivotal role in the northward migration and (re)settlement of agriculturists from steppe and semi-desert landscapes further south into western Siberia. Here we complement knowledge obtained from archaeological excavations by analysing pollen, charcoal, chironomids, sedaDNA and lipids biomarkers from lake sediments obtained proximal to the settlements. Our reconstructions of environmental change, animal husbandry and agriculture will be used to determine the role that climate played in shaping settlement dynamics and economies in this region of western Siberia.
EAGER: Experiments to test potential identification biases of environmental DNA in unfrozen archaeological sediments
With Nancy Bigelow, University of Fairbanks. Funded by NSF Supplement.
Together with colleagues from University of Fairbanks, University of Southampton and University of Tromsø Museum, we aim to evaluate the sensitivity and precision of fish environmental DNA and faecal lipid biomarkers analysed from Alaskan lake sediments. Our reconstructions of fish and the presence of humans within the lake catchment will be compared with known histories of human impact and fish stock manipulation since the 1900s to advance understandings of these approaches and assess their reliability within this depositional environment.
Waves of colonization around the Sea of Moyle: Linking population history, resilience and landscape change of island communities
With Andrew Henderson at Newcastle University (PI: Tony Brown, University of Southampton, University of Tromsø Museum). Funded by AHRC.
Together with colleagues from Newcastle University, University of Tromsø Museum, University of Southampton and Queens University Belfast, we aim to identify and understand the changing landscapes and population history over the last three millennia of a group of small islands around the Sea of Moyle, which is located between the Irish Sea and Atlantic Ocean. We are developing sedimentary palaeoenvironment reconstructions using a range of palaeoecological (pollen and spores) and molecular (lipid biomarkers and sedaDNA) proxies and comparing these with existing historical and archaeological evidence to identify cultural, socio-political and environmental drivers of population and landscape change in this region.
External Roles
Associate Editor of Geoarchaeology Journal
Member of UK-SRFE Knowledge exchange network 'DIMA' (Developing Innovative Multiproxy Analyses - in Siberia and the Russian Far East)
Research interests
Quaternary Environmental Change
Human-environment interactions
Biogeochemical cycles
Lacustrine and peatland palaeoenvironments
Wetland Archaeology
Organic geochemistry (lipid biomarkers)
Palaeoecology (plant macrofossils and testate amoebae)
Tephrochronology