Overview
Dr Iddo Amit
Assistant Professor
---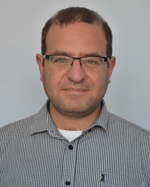 Biography
Short Biography
Iddo Amit (IA) graduated with a B.Sc. in Chemistry, with emphasis on physical and theoretical chemistry from the Hebrew University of Jerusalem in 2003, an M.Sc. in Materials Engineering and Nanotechnologies in 2010 and a Ph.D. in Physical Electronics in 2014, both from Tel Aviv University. In 2015, IA joined the University of Exeter as an Associate Research Fellow, where he later won the prestigious European Commission's Marie Curie Fellowship (2016-2017). Following a short tenure as a Lecturer in Physics in Exeter, IA joined the Department of Engineering in Durham University, in July 2018.
Research Summary
The world of electronic materials is evolving rapidly. While it's unlikely that we'll see silicon and GaAs losing their prominence in the device industry, added functionality offered by newly emerging low-dimensional materials, such as layered semiconductors, nanowires and quantum dots, offer the possibility to expand the existing tool kit of device engineers with novel sensors, detectors and printable electronics. But new possibilities also carry new challenges with them. My primary research goal is to explore the field of semiconductor interface phenomena, and elucidate the physics that govern the nanoscale through functional microscopy. This field carries immense implications to device performance, thermal management and sensing abilities, which, in turn, affect reliability and sensitivity of all modern and future electronics.
My research aims to answer some of the most important open research questions in the field of nanoscale and low dimensional semiconductor devices, such as:
How do current and thermal-stressing affect nano-scale systems, in particular by considering the effects on electromigration of grain boundaries, formation of defect-associated traps and contact degradation?
What are the origins of the slow carrier dynamics in low dimensional systems, and how can it be controlled and manipulated for highly-functional devices?
What are the main characterisation tools that will be required for the future electronics industry? What are the future requirements for development and quality assurance, and how can they be addressed?
Research interests
Low Dimensional Semiconductors
Semiconductor Device: Physics, Design and Characterisation
Thermally Activated Processes: Generation-Recombination and Thermionic Emission
Interfaces: Charge Trapping and Energy Barriers
Sensors
Noise
Scanning Probe Microscopy and Spectroscopy
Transient Current Spectroscopy
Finite-Element Method