Overview
Dr Isabella Bovolo
Lecturer in Physical Geography
---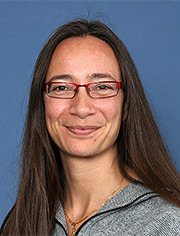 Biography
I have a fairly multi-disciplinary career background. I became an Assistant Professor in the School of Geography at Durham University in 2015, where I am teaching on a variety of courses at different levels, and where I am currently the Director for the Masters programmes in Risk (MSc/MA).
Previously, I was an Associate Lecturer at Northumbria University and before that, I was a Research Associate (from 2002) and then a Senior Research Associate (from 2014) at Newcastle University in the water group in the Department of Civil Engineering and Geosciences. There I worked on a variety of EU-funded projects (including MEDACTION, LESSLOSS, MEDIGRID, EPIC-FORCE, AQUATERRA) and others (SAM, SUSMAQ) on topics such as desertification, shallow landslide modelling and hazard assessment, hydrological modelling, weather radar, climate and land-use change impact assessment, climate change and regional climate modelling. In between these posts, I became the Resident (Chief) Scientist for the Iwokrama International Centre for Rainforest Conservation and Development in Guyana (2010-2012) stationed in a remote field-station in the Guyana rainforest. Here I was responsible for developing, structuring and leading Iwokrama's cross-disciplinary research agenda, including a significant focus on climate change impacts on hydrology, soil carbon/nutrient cycling and ecosystem services. I also became a disaster risk & hydrology/climate specialist for the World Bank in 2013, and was stationed in the Guyana country office, working on a variety of flood-risk management projects. I continue to work with the World Bank on various flood risk management projects in Guyana and Suriname but from the UK.
Research
I enjoy multi-disciplinary approaches to global research questions involving science and people.
I am a hydrologist with a geology background, specialising in both river and climate modelling and monitoring and quantifying physical processes. I am particularly interested in how land-use change impacts the climate, and how climate change impacts the environment, recognising that people have a central role in managing their environments.
My current research focus lies in tropical hydro-climatology and ecosystem services particularly within the Guiana Shield area of northern South America, where I have previously lived and where I have been involved in several research activities since 2009 involving academics, NGOs, civil society organisations (including indigneous communities) and government. Current strands of research include the large-scale climate impacts of tropical deforestation in the Amazonian Guiana Shield, the identification and rehabilitation of mangrove ecosystems in Suriname, and the functioning of the hydrological systems of the Rupununi Savannah wetlands of Guyana. I also work in the field of international development and sustainability in the field of flood-risk management and mitigation in urban and semi-urban environments.
Research Interests
Tropical hydro-climatology
Hydrology
Climate and climate change
Ecosystems
Community best-practice
Coupled human and natural systems