Overview
Professor John Nash
Professor
---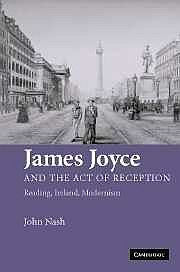 Biography
After a degree at Birmingham, and a D.Phil at Oxford, I took up a lectureship at Trinity College Dublin, where I worked for a decade. I moved to Duham in 2006. I was the Director of Reseach for the Department of English Studies from 2008 to 2014 and Deputy Head of the Faculty of Arts and Humanities from 2015 to 2018 with particular responsibility for all aspects of research.
My teaching and research interests are in the areas of twentieth-century British and Irish writing, with particular focus on James Joyce, constructions of modernism, and the relationship between literary form and historical change.
I am finishing a book that focuses on ideas of domesticity in late-Victorian, Edwardian and modernist writing, c.1890 - 1940. This project analyses several issues, including: the ways in which literary and popular fictions enacted ideas about domesticity; shifts in domestic arrangements and values in this period; the emergence of new things and materials alongside older ones; the journalism and literature of home advice; the relationship between narrative forms and domesticity as a model and metaphor. Early work on this was funded by a British Academy grant. A wide range of writers feature, including Arthur Conan Doyle, Arnold Bennett, John Galsworthy, Virginia Woolf, Elizabeth Bowen and Evelyn Waugh.
This topic is leading me to explore the creation of writers' house museums. An article on Woolf, house museums and shoes is here.
The writings of James Joyce have long been, and will continue to be, an important part of my research, with particular focus on national, religious and intellectual contexts of his work. A particular interest has been the reception of Joyce during his lifetime. James Joyce and the Act of Reception reads key scenes in Joyce's fiction both to show his responses to others' readings of his work as well as to address the cultural and textual conditions of reception in general and in Ireland specifically. Joyce's work is, I argue, a 'writing of reception'. I have edited James Joyce and the Nineteenth Century which examines Joyce's debt to, and re-working of, a series of nineteenth-century contexts with particular focus on Ireland, consumerism, and intellectual history. This book came from a Leverhulme-funded project (with John Strachan) on 'Advertising, Literature, and Consumer Culture in Ireland 1848 - 1921'. My recent work on Joyce has looked at the religious contexts and interpretations of his work, in part through analysis of T. S. Eliot's Harvard teaching notes. This has led to a wider interest in Catholicism in Britain in the early part of the twentieth century. In the coming years I will be editing a new edition of The Cambridge Companion to James Joyce.
I have recently completed a project on 'non-translation' in literary modernism, examining those snippets of 'other languages' included in many modernist texts. The resulting book, Modernism and Non-Translation, was co-edited with my colleague Jason Harding.
PhD Research Students
I welcome enquiries from potential PhD students in any topic related to my fields of interest. I have supervised many PhDs to timely and successful completion, including recent theses on Joyce and advertising, G.K. Chesterton and parody, luggage in fiction 1895-1939, phenomenology of place in modernist women's writing and the notion of performance in Joyce.
Research interests
James Joyce
Irish Literature and Culture
Modernist Studies
Critical Theory
Edwardian Literature and Culture
Esteem Indicators
2000:

Plenary Address. International James Joyce conference, Buffalo, 2008.

Member of AHRC peer review college (2007 - ).

: Plenary Address. International James Joyce conference, Buffalo, 2008.

Member of AHRC peer review college (2007 - ).