Overview
Dr Jordan Mullard
Lecturer in Sociology
---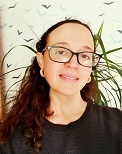 Biography
Dr Jordan Mullard (she/her) is an interdisciplinary social scientist specialising in the qualitative study of intersectionality, identity, race, caste, and the social determinants of health and health inequality. She has been heavily involved in the decolonising of anthropology, has written on the subject for the Journal of the Royal Anthropological Institute, and has offered consultancy on decolonising and anti-racism to a range of stakeholders.
Her current research explores the intersections of inequality and marginality highlighted in the recent pandemic and its relationship to our understanding and treatment of Long Covid. Currently, half of Jordan's time is spent working on the NIHR LOCOMOTION project into Long Covid at Leeds Institute for Health Sciences and Nuffield Centre for International Health and Development. She is also engaged in work that explores the concept of love, the family, and the intersections of identity (race & mixed race, class, gender, and sexuality), allyship, and impact of identity labour on health.
In addition to her academic research and teaching experience, Jordan has had an applied consultancy career in anti-racism, race equality, and Equality Diversity and Inclusion (EDI) learning, development and policy where she co-designed and led large scale race equality, cross-cultural knowledge, and EDI consultancy projects across private, public and not-for-profit sectors both nationally and internationally. She has also worked as a consultant for Black-Led community development initiatives and health and social care research at the local and national level.
Citizenship
University and Department
• Challenge Academy Lead (race, culture and inequality) Wolfson Research Institute for Health and Wellbeing
• Health and Social Theory Research Group
• Anthropology of Health Research Group
• Concerns, Bullying and Harassment Advisor
Current Teaching
Co-Convenor Level 2 Sociology of Health and Medicine
Level 2 Research Methods in Action
Past Teaching in Anthropology
Module Convenor for Level Three Decolonising Anthropology
Module Convenor for Level Three and PGT Health Inequalities
Module Designer for Anthropological Research Methods in Action: The Captain Cook's Birthplace museum field trip.
Lecturer Global Health and Disease