Overview
Professor Louise Amoore
Professor
---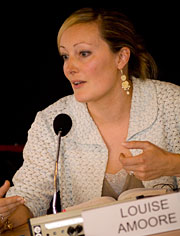 Biography
Louise Amoore is Professor of Political Geography and Deputy Head of Department. Her research and teaching focuses on aspects of geopolitics, technology and security. She is particularly interested in how contemporary forms of data and algorithmic analysis are changing the pursuit of state security and the idea of society. Her most recent book, Cloud Ethics: Algorithms and the Attributes of Ourselves and Others, is published by Duke University Press in Spring 2020. Among her other published works on technology, biometrics, security, and society, her book, The Politics of Possibility: Risk and Security Beyond Probability (2013)examines the governance of low probability, high consequence events, and its far-reaching implications for society and democracy. Louise's research has been funded by the Leverhulme Trust, ESRC, EPSRC, AHRC, and NWO. She is appointed to the UK independent body responsible for the ethics of biometric and data-driven technologies. Louise is co-editor of the Journal Progress in Human Geography.
Louise's previous projects include her RCUK Global Uncertainties leadership fellowship (2012-2015). Her project 'Securing Against Future Events' (SaFE): Preemption, Protocols and Publics' examines how inferred futures become the basis for new forms of security risk calculus.
She has also conducted ESRC projects on the techniques and technologies of biometric and data-driven borders: 'Contested Borders' (2007-2009), a project within the ESRC's non-governmental public action programme. The work has produced new insights into how contemporary security practices enter and reconfigure public space.
'Data Wars: New Spaces of Governing in the European War on Terror' (2008-12) was a three year ESRC bilateral project in collaboration with Marieke de Goede at the University of Amsterdam. Researchers at Durham and Amsterdam investigated how data elements from the mobilities of people and money become redeployed for preemptive security.
Supervision students
Miss Anna Okada
Research Postgraduate (PhD)
Miss Charlotte Lock
Research Postgraduate (PhD)
Miss Liv Robinson
Research Postgraduate (MRes)