Overview
Dr Luca Malici
Assistant Professor (Teaching)
---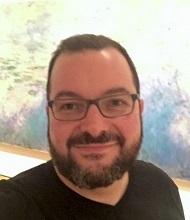 Biography
I am Assistant Professor (Education) in Italian in the School of Modern Languages and Cultures, where I convene two Italian language modules (ITAL1102 and ITAL3021), the module on specialised translation (MELA42030) and I am one fo the Italian Studies Year Abroad Officer. I also act as the School representative in the university-wide Information Technology Users' Group and Virtual Learning Environment (VLE) Users' Group.
My principal research interests lie in the fields of Equality, Diversity, and Inclusion (EDI) as well as Communication, Cultural and Media Studies with a special focus on the ways in which individuals engage with and are affected by means of communication. On the one hand, this greatly feeds into my inclusive and technology-enhanced language teaching practice and research. On the other hand, my doctoral research investigated the portrayal of LGBTIQ (Lesbian, Gay men, Bisexual, Transgender, Intersex, and Queer) subjects and issues on Italian film and television. My other research interests and teaching expertise extend also to various aspects of 19th and 20th-century Italian culture and literature as well as media translation, dubbing and subtitling.
Having graduated in Languages and Information Technology at the University of Rome, I received the joint Birmingham and Warwick MA in Italian Studies. Before moving to Durham, I have tutored and lectured on a variety of undergraduate and postgraduate modules at the Universities of Birmingham, St Andrews and Sheffield, covering aspects of Italian language, translation and culture. In 2019, I was awarded Senior Fellowship of the Higher Education Academy in recognition of attainment against the UK Professional Standards Framework for teaching and learning support in Higher Education. I am a UNILANG approved External Examiner, and a trained AQA and Edexcel assessor.
I also collaborated with the Association for the Study of Modern Italy (ASMI www.asmi.org.uk) and their international academic journal Modern Italy as Development and Communication Officer. Furthermore, I acted as a research assistant and web-designer for the first strand of an AHRC project (www.interdisciplinaryitaly.org) and I have been involved as a Learning and Teaching Assistant Lead in world-leading research for the development and testing of multi-user, multi-touch tables. As part of this larger project, we created and designed an interactive language module for Italian beginners.
Research interests
Action-oriented and Glocal Pedagogies
Language Pedagogy
Technology-enhanced Language Teaching and Learning
Equality, Diversity and Inclusion (EDI)
Gender and Sexuality Studies
Queer Studies
Cultural Studies
Media Studies
Audio-visual translation