Overview
Mr Martin West
Senior Analytical Experimental Officer
---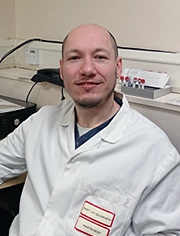 Affiliations

| Affiliation | Room number | Telephone |
| --- | --- | --- |
| Senior Analytical Experimental Officer in the Department of Geography | 113 | +44 (0) 191 33 44359 |
Biography
I have over 20 years of experience working in various technical roles in industry and academia. Prior to joining the university as a research technician in 2005, I was the principle chemist and senior chemist in two local UKAS/MCERTS accredited contract laboratories where I was responsible for supervising a small team of analysts.
Joining the university allowed me to get more directly involved with analytical research and development, a part of the job that I most enjoy. In 2010 I was promoted to grade 7 senior research technician with direct responsibility for the day-to-day running of the chemical analysis laboratories within the department.
Responsibilities within department
Management of the Analytical Laboratory.
Management of the Gamma Spectroscopy Laboratory.
Management of the Isotope Ratio Mass Spectrometry (IRMS) facilties.
Provide advice, training and supervision for users of the laboratory facilities.
Method/Instrument development and validation.
Instrument maintenance and repair.
Expertise/Specialisations:
GC-IRMS, EA-IRMS.
GC/MS (including pyrolysis-GC/MS, CI-GC/MS).
LC-MS/MS.
Gamma Spectroscopy/Gamma dating.
ICP-MS.
UV-vis Spectrometry.
Other Analytical Techniques
Elemental Analysis (CHNSO) by combustion.
TOC/DOC/TN (in waters by combustion).
IC and IC/MS.
GC-FID.
GC-TOF
ICP-OES.
AAS (HG-AAS).
Bomb Calorimetry.
XRF.
Various extractions/titrations/colorimetric procedures and associated instruments.