Overview
Dr Paolo Fortis
Associate Professor
---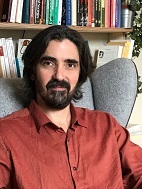 Biography
Paolo Fortis is a social anthropologist with research interests in the relations between art, ontology, notions of the person and alterity among Central and South American indigenous peoples. He obtained his PhD from the University of St Andrews in 2008 with a dissertation on woodcarving and healing among Kuna people living in the San Blas Archipelago of Panama.
His monograph Kuna Art and Shamanism: An Ethnographic Approach explores Kuna anthropomorphic carvings in the context of the everyday life, focusing on the interplay between material and bodily practices, ecology, myth, the life cycle and the visual system. The book argues that studying art ethnographically provides a powerful perspective to look into a people's ideas of what it is to be human, thereby considering art and aesthetics as categories of experience.
He was Guest Curator at the Ethnographic Museum of the University of Zurich for the exhibition Mola – Crafting Beauty and Layering the World – in Panama (26 Nov 2015 - 4 Sep 2016): http://www.musethno.uzh.ch/static/guna/
Current Work
Paolo is currently working on a new project that explores the use of military metaphors and imagery in ritual chants and visual art in the context of the long-standing relationship between the Kuna and North American army previously based in the Panama Canal Zone.
Research interests
Amerindian societies
Anthropology of art
Myth and history
Panama
Personhood
Shamanism
Social change
Temporality