Overview
Mr Stephen Burrell
Assistant Professor (Research)
---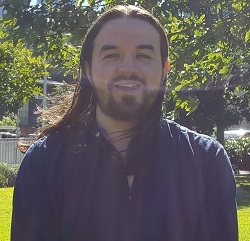 Biography
I am currently undertaking a Leverhulme Early Career Fellowship exploring the connections between the climate crisis, masculinity and violence, and how to engage men and boys in building more caring relationships with the environment.
I am a Deputy Director of the Centre for Research into Violence and Abuse (CRiVA). Sandy Ruxton and I host an educational podcast called 'Now and Men: Current conversations about men's lives', and I am interested in the pedagogical role that podcasting can play. We have a dedicated website sharing all of CRiVA's research on Men, Masculinities and Social Change.
I completed my PhD at Durham in 2019, which investigated work with men and boys to prevent men's violence against women in England, including how young men make sense of violence prevention campaigns. Subsequently I undertook an ESRC Postdoctoral Fellowship on the role of the business sector in preventing violence against women, and how to engage with men about gender equality in the workplace.
Prof Nicole Westmarland, Sandy Ruxton and I have carried out research for the Government Equalities Office about the impacts of masculine gender norms in the UK today, which resulted in a report and engagement toolkit. We have also co-authored an open access book with international colleagues, 'Men's Activism to End Violence Against Women: Voices from Spain, Sweden and the UK' (Policy Press, 2021).
My research has examined the gendered impacts of the coronavirus pandemic. This has included co-authoring report for the international NGO Equimundo with Ruxton on the connections between masculinities and Covid-19, researching the consequences of the pandemic for work with men and boys in Europe, and how to build gender equality in the North East business sector in its wake. With Westmarland and colleagues we have also explored the experiences of male victim-survivors of domestic abuse during Covid-19.
I am a trustee for White Ribbon UK and steering group chair for Changing Relations CIC. Since I first started studying sociology, feminist ideas have had a profound impact on me, and these continue to provide the main inspiration for my work. I am therefore also interested in men's varied responses to feminism.
Follow me on Twitter: @the_daily_panda
Research interests
Men and masculinities
Violence and abuse
Primary prevention
Gender inequality
Environmental harm
Masculinities and Covid-19
(Pro-)Feminist social movements
Supervision students
Miss Laura Hepworth
Postgraduate Research Student