Overview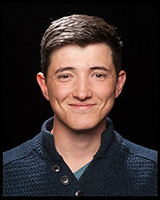 Biography
After completing my BA at Durham with a dissertation focusing on viewshed analysis in Late Iron Age landscapes I began pursuing a career in commercial archaeology. I am now a Project Supervisor with experience in site supervision and running archaeological projects in the South-East and Midlands, including participation in large-scale, nationally significant infrastructure projects. This has allowed me the chance to develop many new skills such as proficiency in GPS survey, report writing and finds identification, in addition to more transferable skills such as team leadership, organisation and client interaction. I am nonetheless enjoying the opportunity to study archaeology again and begin to develop more academic specialisms.
Research Topic
A landscape study of British Territorial Oppida in the Late Iron Age and their place in wider Iron Age society.
Abstract
The Territorial Oppida of Late Iron Age Britain bridge the gap between traditional notions of archaeological sites and landscapes. Many are so large that they can hardly be characterised as single, self-contained sites (Colchester covers 2200ha). They also clearly occupied a prominent position in Late Iron Age societies, situated on major routeways and geographical boundaries. Bagendon, for example, would have dominated movement along the River Churn which cuts across the Cotswolds between the Thames Valley and the Severn Valley. In addition, there is often high-status activity such as coin minting, the suggestion of ritual practices and a continued high-status presence into the Roman period. Many Territorial Oppida subsequently became Roman Civitas capitals such as at Colchester, Silchester and St Albans.
Despite their obviously significant role in the societies of Late Iron Age Britain, and much recent research, they retain an air of mystery. What were the large complexes of dykes actually for? Why are so much of their interiors seemingly empty? To what extent could they be classed as proto-urban settlements? This project will undertake a large-scale landscape and topographic analysis of several oppida in Britain. The results of this will then be interpreted against the backdrop of current thinking about oppida and Late Iron Age societies. In this way answers to a few of the questions above may begin to be answered and new techniques for the study of oppida may be developed.