Overview
Dr Sarah Miles
Associate Professor
---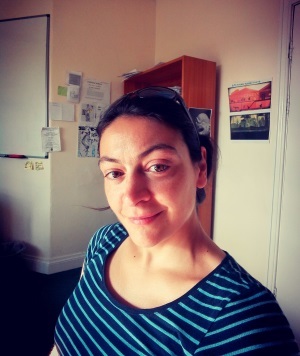 Biography
I studied Classics at Oxford and then completed postgraduate work at Nottingham, emerging from the latter with a Ph.D. and then taking up a post at Durham.
Research
Research interests: Greek comedy, tragedy and paratragedy (5th – 3rd centuries BCE); 20th and 21st c. popular culture and ancient Greek literature, especially children's media and animation; the popularisation of Greek drama in the ancient world; classical reception of Greek drama in 4th c. BCE philosophy;

Current research
1. I love to explore the form and use of paratragedy in fragments of Old Comedy and considers how this can be viewed as a mode of reception and popularisation of Greek drama in its earliest performance contexts. I am currently working on a monograph on the topic: Greek Tragedy and its Reception in the Fragments of Old Comedy. This builds on the work of my thesis, which focused on one poet: "Strattis, Tragedy, and Comedy", available at: http://eprints.nottingham.ac.uk/10887/
2. I am delighted to be an organiser on the 'Plato on Comedy Project in the Department of Classics and Ancient History at Durham: https://www.dur.ac.uk/platooncomedy/. This is the 2018-19 Departmental Research Project. My co-organisers are Dr. Anthony Hooper (Durham - Classics), Assoc. Prof. Andrea Capra (Durham - Classics), Dr. George Gazis (Durham - Classics), as well as Ms Marta Antola and Ms Maddalena Ruini. The project takes a uniquely interdisciplinary approach to the study of Plato's relationship with comedy, drawing on the expertise both of philosophers and classicists to explore the complexities of Plato's views on, treatment of and interactions with comedy. We are holding research seminars in 2018-19. We have held an international workshop in March 2019, a conference in July 2019, currently planning publication, and we hope to continue these conversations in future meetings.
School Talks
I am more than happy to give talks in schools on topics related to Greek literature. Topics include: all things Aristophanes!, Greek drama, Greek Comedy, Greek Tragedy, Greek literature in contemporary pop. culture. Just get in touch, and feel free to suggest other topics.