Join us for the Durham premier of Petr Nuska's ethnomusicological documentary Hopa Lide (screened Wednesday 28 June, Music Department, Durham University), and round table discussion on 29 June - which brings together the filmmaker and distinguished scholars from the BFI and Durham University in a conversation about filmmaking and ethnography.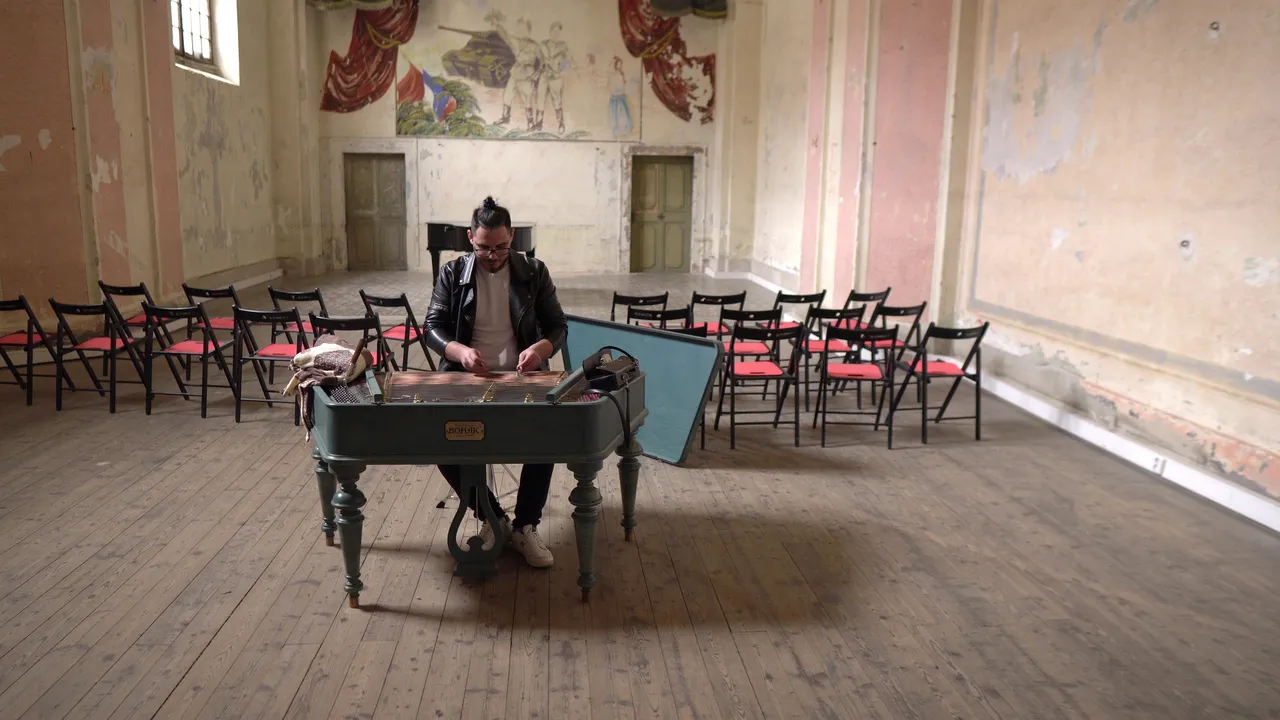 A young man tuning a piano in a large room with another piano and chairs laid out behind, as though for a concert; stillshot from Hopa Lide film.
The Centre for Visual Arts and Culture in conjunction with the BFI and the Durham-Leverhulme Doctoral Training Centre in Visual Culture is pleased to present:
Film screening
Wednesday 28 June 2023, 14.00-16.00
Concert Room, Music Department, Palace Green, Durham
HOPA LIDE
(dir. PETR NUSKA, 2022)
Petr Nuska is an ethnomusicologist and ethnographic filmmaker, and a graduate of the Durham-Leverhulme Doctoral Training Centre in Visual Culture. His film Hopa Lide was made with the support of the Fondazione Giorgio Cini in Venice, and was premiered in Venice in December 2022.
Hopa Lide asks: Who are the Romani musicians? Do they have music in their blood and a special talent for making people sing and dance? Or is that just a myth? Petr Nuska's documentary approaches this question in a novel way. Each of its three chapters represents the collaboration between a Czech anthropologist and Slovak Roma musicians to produce a music video. The camera's mobile gaze transports us into scenes of on-stage and backstage performance, but also allows us access to intimate moments that reveal the daily struggles and secret dreams of the musicians. The film challenges many preconceptions about Romani music, but also about music and the Roma people in general.
Round Table
Thursday 29 June 2023, 14.00-17.00
Venue: Room TLC101 Teaching & Learning Centre, South Road, Durham and via Zoom
14.00: Welcome and introductions
14.10: Opening remarks (Peter Hames, BFI) via Zoom
14.30: Round table (Ludmilla Jordanova (chair); Petr Nuska, Martin Clayton, Kate Hampshire, Dušan Radunovič, Peter Hames)
16.00: Closing remarks (Ludmilla Jordanova)
16.15: Refreshments
17.00: Close
Notes on speakers
Martin Clayton is Professor in Ethnomusicology in Durham University. His research interests include Hindustani (North Indian) classical music, rhythmic analysis, musical entrainment and embodiment.
Peter Hames is a programme advisor to the BFI London Film Festival and has served on film juries in both Slovakia and the Czech Republic.  His books include The Czechoslovak New Wave (2005), Czech and Slovak Cinema: Theme and Tradition (2010), and Best of Slovak Film, 1921-1991 (2018).  He is Visiting Professor in Film Studies at Staffordshire University.
Kate Hampshire is a Professor in the Anthropology Department at Durham University. She is a medical anthropologist and has been conducting fieldwork on health and well-being, mostly in Sub-Saharan Africa, since the mid-1990s.
Ludmilla Jordanova is Professor Emerita of the History of Visual Culture at Durham University, UK. Trained in the history and philosophy of science and art history and theory, her research has focused on cultural history, the practice of history, and visual culture, especially portraiture.
Dušan Radunovič is Associate Professor of Russian at Durham University. His research interests include Critical Theory (Bakhtin, Formalism, Shpet's Circle), Russian, Georgian and Eastern European cinemas, and Transnationalism and Nationalities studies