Sign up here! (Links to Google Form)
20 August 2022 - 21 August 2022
Twitch: https://www.twitch.tv/durhamesports
Taking part in one of these events will cost £3, £5 to take part in 2 and just £7 for all 3!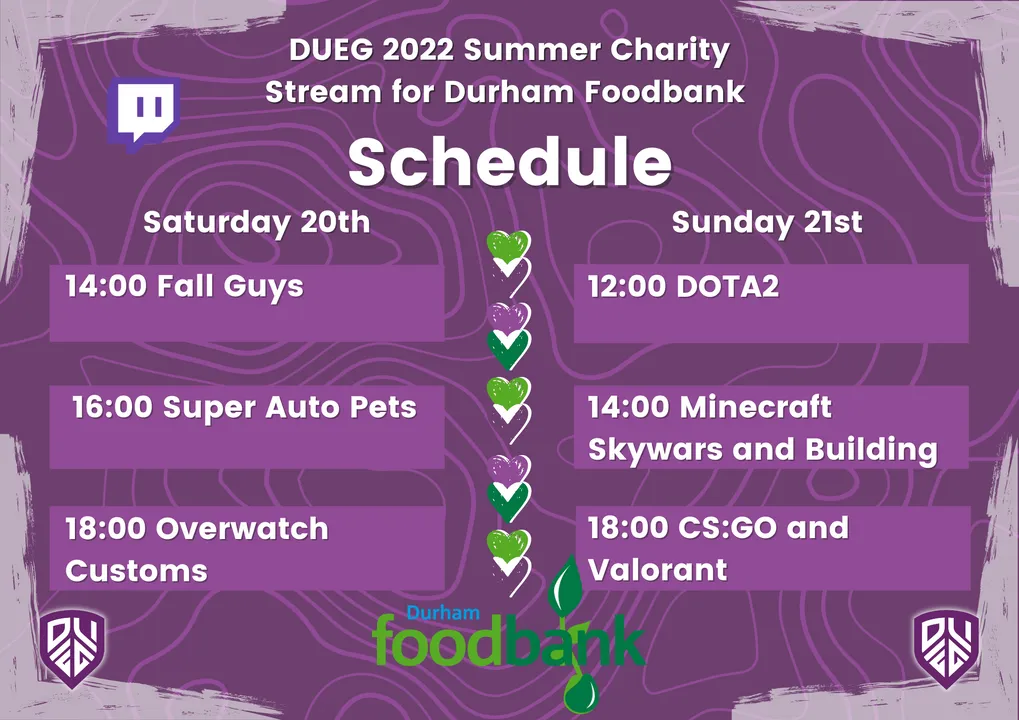 Event Timetable
This year Durham University Esports and Gaming is supporting the Durham Foodbank for our Summer Charity Stream to help give back to and support our local community as the rising cost of living means that more people than ever need foodbanks in the North-East.
The event will take place over the weekend of the 20th-21st August and we will be offering 3 inter-uni tournaments this year to help support the fundraising, so get all your friends involved! - The non-DU university with the most signups will receive a free crate of Red Bull! Games to be played are:
Super Auto Pets
Fall Guys
Minecraft
SIGN UP HERE: https://forms.gle/CufQjj2QRyiCYobZ7
Please send confirmation of payment to one of the Exec so we can add you to the special inter-uni server!
Alongside this, we will be hosting numerous free Senate run games, please check the attached schedule! Everything will be being streamed on our DUEG Twitch: https://www.twitch.tv/durhamesports
Donations: Though Durham Foodbank is a part of the Trussell Trust (main UK foodbank charity), donating to the main body cannot guarantee the money will go through to Durham specifically, so we will be making a one-off donation from our Society Account. As such, all donations should be made to the DUEG account, which is:
Durham University Esports Club: 83706826
Sort Code: 20-27-66
Please reference your university followed by your first initial and last name (eg. DU AJIANG)
Last year we raised £616 for The Survivors' Trust, so would be great to beat this record this year! We will also be posting out opportunities to help observe/cast for some of the games if interested, so be on the lookout!
Pricing
Taking part in one of these events will cost £3, £5 to take part in 2 and just £7 for all 3!