Department of Earth Sciences
Our Research Excellence Framework 2021 results

Welcome to the Department of Earth Sciences
The Department of Earth Sciences submitted 35 members of staff, comprising 34.86 Full-Time Equivalent (FTE) staff, to the REF Earth Systems and Environmental Sciences Unit of Assessment (UoA). The submission included one Early Career Researcher.
Find out more about us
Top 10
in the UK for research outputs (REF 2021)
World Top 50
QS World University Rankings by Subject 2023
25th
in the Times Higher Education International Universities Rankings
4th
The Times and Sunday Times Good University Guide 2020
Protecting global communities from harmful volcanic emissions
Our Earth Sciences research is helping communities living near active volcanoes, and the agencies protecting them, to reduce exposure to volcanic emissions.
Professor Claire Horwell's pioneering research has paved the way forward for global and community-specific advice to prevent breathing problems and other illnesses caused by a volcanic eruption.
Read the full case study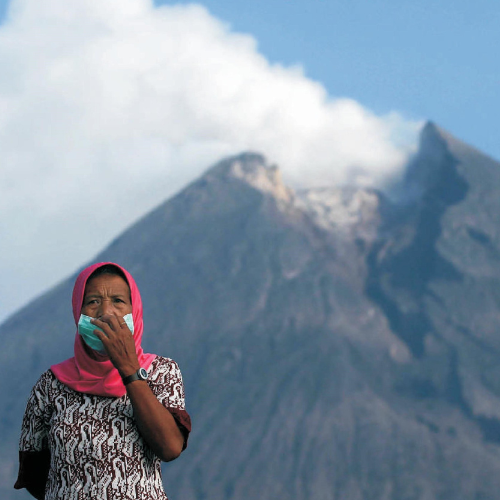 Strategy, goals and future plans of the department include continuing to build a resilient research community with a diverse range of research income sources, including from research councils and industry and fostering interdisciplinary research that matters (including climate and data science).
During the last REF period, over £100k each was secured from more than 20 different funding sources, with lots of recent appointments, we have a young and dynamic staff team covering a wide range of Earth Science disciplines. These include important growth areas in natural hazards, resources, and climate science. The department provides an open, collaborative, and equitable workplace in which researchers at all career stages are supported to pursue ambitious and rigorous research, and to deliver impact.
We are proud that our REF success reflects the environment we have built together. Research impact is achieved across the range of disciplines. Our impact success reflects the pivot Earth Sciences is making towards finding solutions for society's present and future needs. We provide a modern research-led teaching portfolio, that aims to provide the best opportunities for our students, including the only BSc in Climate Science in the UK.
Earth Sciences REF Impact Case Studies
Earth Sciences submitted three impact case studies including volcanic eruptions and renewable energy.
Click below to read more about our case studies
New geological data created by our researchers has transformed our understanding of fractured basement reservoirs.
Metal resources underpin industry, technology, and the transition to renewable energy sources.
This research has studied how communities can protect themselves from potentially harmful volcanic emissions.
Research Themes
Our research is organised into three broad themes: Earth Surface Processes and Hazards, Climate, Environment and Resources, and Physics and Chemistry of Earth and Planetary Processes.
More about our Research Themes
Durham Energy Institute delivers understanding, leadership and solutions for energy decarbonisation and the transition to net-zero.
Durham Energy Institute delivers understanding, leadership and solutions for energy decarbonisation and the transition to net-zero.