Overview
Professor Bruce Wardhaugh
Professor of Competition Law
---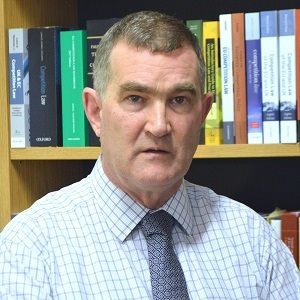 Biography
Bruce Wardhaugh joined the Law School as Professor of Competition Law in 2021. He previously taught at the University of Manchester (as Senior Lecturer and then as Professor of Competition Law), Queen's University Belfast and Newcastle University.
He earned a PhD and an LLB (JD) from the University of Toronto, and an LLM (in International and European Law) from the University of Amsterdam. Prior to his career as a legal academic, Bruce practiced in British Columbia (Canada) for a number of years.
Bruce has written extensively on the competition issues surrounding collusion. Most recently (2022) he published a monograph with Cambridge University Press entitled Competition Law in Crisis: The Antitrust Response to Economic Shocks. This book examines how competition law of the EU and its Member States has adapted to economic problems at the firm and industry-wide level in the past, and in particular whether it has exacerbated or mitigated them. With this analysis in mind, the book then turns to other crises (and their resulting economic fallout), which we now face—particularly Covid, climate change and Brexit.
In 2020, he published a monograph with Hart (Bloomsbury), Competition Effects and Predictability: Rule of Law and the Economic Approach to Competition. His Cartels, Markets and Crime: A Normative Justification for the Criminalisation of Economic Collusion was published by Cambridge University Press in 2014.
In addition to these monographs, he has published numerous articles in scholarly journals, and is a news correspondent for the European Competition Law Review on cases before the Court of Justice of the European Union. In that role he writes frequent comments on that Court's competition law judgments. He also contributes regularly to academic conferences. In September 2013, his paper "Bogeymen, Lunatics and Fanatics: Collective Actions and the Private Enforcement of European Competition Law" won the Best Paper Prize at the Annual Meeting of the Society of Legal Scholars. It was later published in Legal Studies.
He is also actively involved in the Society of Legal Studies (serving on its Executive Committee since 2013), and has been an Editor (and since 2018, an Editor in Chief) of Legal Studies, the Society's journal.
Bruce is always seeking good PGR students with interesting projects in competition (antitrust) law (including state aid and subsidies), international economic law, corporate and commercial law, and projects which use a law and economics methodology.
Bruce also serves as the Law School's Deputy Dean for Internationalisation, working to develop research collaboration with Universities abroad and facilitating student recruitment efforts.
Media Contacts
Available for contact regarding
· Competition Law (including state aid and subsidy regulation)
· International Trade Law
· Corporate and Commercial Law
Selected Publications
Books
Competition Law in Crisis: The Antitrust Response to Economic Shocks (Cambridge University Press, 2022)
Competition, Effects and Predictability: Rule of Law and the Economic Approach to Competition (Hart, 2020)
Cartels, Markets and Crime: A Normative Justification for Criminalisation of Economic Collusion (Cambridge University Press, 2014)
Journal Articles
"Closing the Algorithmic Gap: Rethinking Dynamic Pricing under Articles 101 and 102 TFEU" (2021) 5(2) CoRe: European Competition and Regulatory Law Review 122 – 131
"Subsidies and Competition in the EU-UK Trade and Cooperation Agreement: All Pain for No Gain?" (2021) 18 Manchester Journal of International Economic Law 70 - 100
Punishing Parents for the Sins of their Child: Extending EU Competition Liability in Groups and to Sub-Contractors (2017) 5 Journal of Antitrust Enforcement 22 – 48
Intel, Consequentialist Goals and the Certainty of Rules: The Same Old Song and Dance, My Friend (2016) 11(2) Competition Law Review 215 – 238
Buying Competition: Developing Competition Regimes Through a WTO-Compliant Generalised System of Preferences (2016) 13 Manchester Journal of International Economic Law 22 – 49
Developing Regimes and Mobile Telecoms Regulation in the Twenty-First Century: Who Makes The Call? (2015) 6(3) European Journal of Law and Technology 1 – 24
Crisis Cartels: Non-Economic Values, the Public Interest, and Institutional Considerations (2014) 10 European Competition Journal 311 – 340
Unveiling Fairness for the Consumer: The Law, Economics and Justice of Expanded Arbitration (2014) 26 Loyola Consumer Law Review 412 – 469
Bogeymen, Lunatics and Fanatics: Collective Actions and the Private Enforcement of European Competition Law (2014) 34 Legal Studies 1 – 23 (Winner of the 2013 Society of Legal Scholars Association Best Paper Prize)
GSP+ and Human Rights: Is the EU's Approach the Right One? (2013) 16 Journal of International Economic Law 827 – 846
Cartel Leniency and Effective Compensation in Europe: The Aftermath of Pfleiderer (2013) 19 Web Journal of Current Legal Issues, September 2013 (http://webjcli.org//article/view/251)
The Cartel Offence within a 'World Class' Competition Regime: An Assessment of the BIS Consultation Exercise and its Results (2012) 8 European Competition Journal 573 – 588
A Normative Approach to the Criminalisation of Cartel Activity (2012) 32 Legal Studies 369 – 395
Closing the Deterrence Gap: Individual Liability, the Cartel Offence and the BIS Consultation (2011) 10 Competition Law Journal 175 – 194
Chapters in Books
"Criminalisation of Cartel Activity" in Peter Whelan (ed) Research Handbook on Cartels (Edward Elgar, forthcoming 2022)
"Competition Law and the Internet" in Paul Lambert (ed) Gringras, The Laws of the Internet (Bloomsbury, 2022) pp 571 – 624
"Cartels and Collusion" (2020) in Jürgen G. Backhaus (ed.) Encyclopedia of Law and Economics, (Springer; Second Edition, 2021 - )
"Development, Property and International Investment: The Double-Edged Sword of Human Rights" in Ting Xu and Jean Allain (eds.) Property and Human Rights in a Global Context (Hart, 2016), pp 175 – 195
"Chapter 4: Rights and Remedies" in David Vaughan CBE QC and Aidan Robertson QC (eds.) Law of the European Union (Oxford University Press, loose leaf) 4.i – 4.iv, 4.1 – 4.606 (September 2015)
"Chapter 23: Economic and Monetary Union" in David Vaughan CBE QC and Aidan Robertson QC (eds.) Law of the European Union (Oxford University Press, loose leaf) 23.i – 23.vi, 23.1 – 23.614 (September 2015)
Research interests
Competition Law (in particular EU and US)
Corporate and Commercial Law and law and economics
State Aid
WTO law
Esteem Indicators
2000: Recent Recognition: PhD External Examiner Trinity College Dublin (2015), Brunel University (2017, 2018)

External Examiner  University of Leicester Law School (2019 - ); School of Law, Queen's University Belfast (2020 - ); School of Law, University Of Leeds (2020 - )

Grant Reviewer European Research Council, Polish National Science Centre (Nardowe Centrum Nauki), Leverhulme Trust (2012)

Article Reviews Legal Studies, Journal of Antitrust Enforcement, World Trade Review, Web Journal of Current Issues, Northern Ireland Legal Quarterly, Manchester Journal of International Economic Law, Yearbook of Antitrust and Regulatory Studies (Warsaw), Oxford Journal of Legal Studies, European Journal of Law and Technology, CoRe: European Competition and Regulatory Law Review, Journal of Intellectual Property Law and Practice, Korea Legislation Research Institute Journal of Law and Legislation

Book Proposal Reviews Cambridge University Press, Oxford University Press, Routledge, Palgrave Macmillian, Edward Elgar, Hart
Supervision students
Mrs Asni Binti Che Abd Aziz
Mr Kristiyan Stoyanov
PhD Candidate