Overview
Dr Eleni Frantziou
Associate Professor in Public Law & Human Rights
---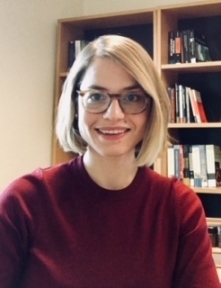 Affiliations
Affiliation
Associate Professor in Public Law & Human Rights in the Durham Law School
Biography
Dr Eleni Frantziou joined Durham Law School in 2018. She holds an LLB from King's College London, an LLM from the College of Europe (Bruges), and a PhD from UCL. In 2015, she was an Exchange Scholar at Yale University. She teaches in the fields of public law and human rights on undergraduate and postgraduate taught programmes and co-directs the Human Rights and Public Law Centre.
Dr Frantziou's research focuses on the application of human rights in legal disputes between private parties ('horizontal effect') in Europe and comparatively. She is the author of a monograph entitled The Horizontal Effect of Fundamental Rights in the European Union: A Constitutional Analysis (OUP 2019), which was the Joint Winner of the UACES Best Book Prize 2020. Dr Frantziou has also published extensively in peer-reviewed journals concerning the horizontal effect of human rights, the interpretation and application of the EU Charter of Fundamental Rights, and the relationship between EU and UK human rights law following Brexit. Her research has been cited extensively, including by Advocates General at the Court of Justice of the European Union, in EU institutional reports, national human rights bodies, and by national courts, such as the German Constitutional Court. Dr Frantziou is currently working on a large-scale comparative project on the application and justifications of the horizontal effect of human rights, with an emphasis on questions of equality and political inclusion. She takes a broader interest in the concept of private life within the law and in the implications of constitutional entrenchment.
Dr Frantziou welcomes approaches for supervision from prospective doctoral students in her areas of expertise. She is particularly interested in comparative doctoral work on the horizontal effect of human rights.
Research Interests
UK Constitutional Law, EU Constitutional Law, Constitutional Theory, Global Constitutionalism, Human Rights Law, Workplace Politics, Horizontal Effect, Privacy
Research interests
UK Constitutional Law
EU Constitutional Law
Global Constitutionalism
Human Rights Law
Horizontal Effect
Privacy