Overview
Professor Stacey Pope
Associate Professor
---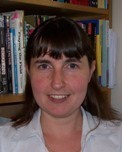 Biography
Stacey is Theme Leader for the Department of Sport and Exercise Sciences. She joined Durham University in 2013. She is especially interested in issues of gender, sport and inequality and is a leading figure in the area of women sports fans. Women sports fans have been largely ignored in existing studies but Stacey's research has broken new ground by addressing these shortcomings. She is author of The Feminization of Sports Fandom. Stacey's research interests are interdisciplinary, combining sociology, history, sport, gender studies and leisure studies.
Stacey is currently working on an ongoing AHRC project on women sports fans (£244k). This project has two main programmes of work. Firstly, it focuses on the experiences of women football fans in Britain from the 1950s to the present day, using the men's Newcastle United Football Club as a case study. The second part is focused upon international women's football. This is investigating women's fandom as well as media coverage of women's football in a 'new age' of women' sport. Stacey's research is aligned to the Sporting Lives Theme Group.
Stacey has been awarded grants from a range of funders, including the ESRC, the AHRC, the NERC and the Racing Foundation. She is regularly invited to present at national and international events. She has received invitations from key policy makers to discuss her research (e.g. UEFA, Public Health England) and her research on women football fans has been used to inform policy papers for the DCMS and the Sports Grounds Safety Authority. Stacey is committed to the public dissemination of her research and her work regularly features in the national and international media (e.g. Euronews, L'Equipe, BBC, Sky Sports News, the i).
PhD Supervision
Stacey welcomes applications from potential PhD students in the area of gender, sport and inequalities.